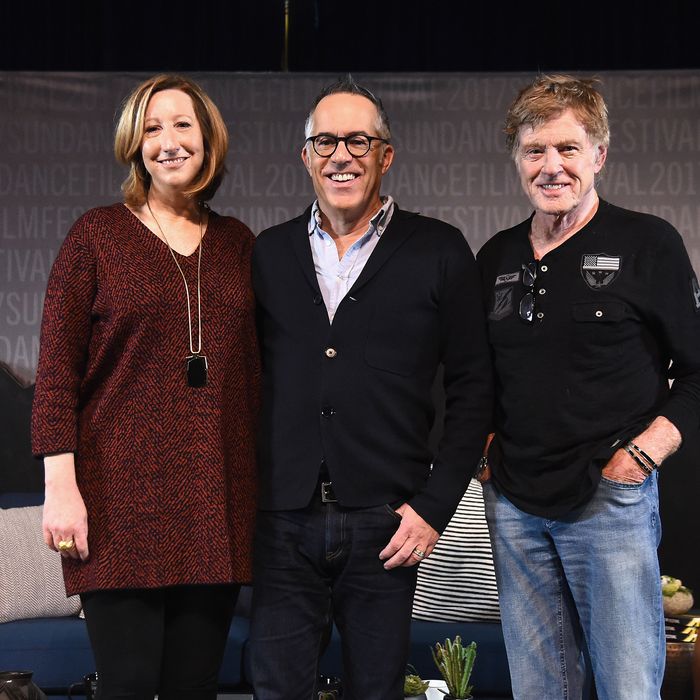 PARK CITY, UT - JANUARY 19: (L-R) Executive Director of Sundance Institue Keri Putnam, Director of Sundance Film Festival John Cooper and President and Founder of Sundance Institute Robert Redford attend the Day One Press Conference during day 1 of the 2017 Sundance Film Festival at Egyptian Theatre on January 19, 2017 in Park City, Utah. (Photo by Nicholas Hunt/Getty Images for Sundance Film Festival)
Photo: Nicholas Hunt/Getty Images
What do you do when you've been planning a film festival for a year and Donald Trump's inauguration is scheduled right in the middle of it? In some ways, this is nothing new for Sundance Film Festival founder Robert Redford to contend with: Sundance is now in its 33rd year, and since it takes place in late January, it butts up against an inauguration every four years. Still, this may be the first time that the incoming president is so thoroughly against everything the festival stands for, including free speech, diversity of voices, and the importance of the arts.
At today's opening-day press conference, Redford shied away from the idea that the festival would change in response to a Trump presidency. "The idea is that presidents come and go," he said. "The pendulum swings back and forth. It always has, and it probably always will. So we try to stay away from politics per se, and we stay focused on what are the stories being told by artists. And if politics comes up in the stories that the filmmakers are telling, so be it." The role of Sundance, festival director John Cooper said, would be to stay alert to anything that might threaten their filmmakers' abilities to tell those stories. "Maybe they're going to need more support," he said, "and we're going to give it to them."
Still, it's hard to ignore what's about to happen. Journalist after journalist stood up to ask questions about how art survives in times such as these, as Redford tried to calm down the room with the wisdom of his very sprite 80 years. "In terms of the feeling that a lot of people are having about being fearful and things are getting dark and the darkness is closing in around them," he said, "You want to look to where the light is coming from." He was hopeful that the fearful feeling would at least galvanize the previously complacent and create a movement to protect everything the festival stands for.
Those fears seem more warranted every day. The press conference was taking place in the wake of a report from The Hill raising the possibility that Trump's first proposed budget could entirely eliminate federal funding for the arts, including the National Endowment for the Arts, which received about $146 million a year under the Obama administration. Redford said he turned to the NEA for a $25,000 grant to start the festival back in 1985, and Sundance Institute executive director Keri Putnam warned that cutting that funding would affect more than just filmmakers. "It's about free expression and it's about what role do the arts play," she said. "From what I understand, the total amount of the cuts that are being proposed is about $741 million, which equates to about 0.016 percent of the federal budget, so it feels hard to imagine that being a real budget-cut measure. It feels like more of a statement about the arts. I think it's a critical issue for all Americans."
While the Sundance powers that be were adamant that politics did not drive their programming decisions, it's hard not to see fallout from the election in the opening-night program, which includes An Inconvenient Sequel, a follow-up to the seminal documentary of Al Gore's environmental advocacy that premiered at the festival in 2006. "I think what became evident is that I wanted to take the conversation to something much bigger and higher, more global, instead of America," Cooper said at a roundtable following the press conference. "I liked the notion of going global and saying there's a problem up here that overrides all this, even overrides our country and all parties."
And in the U.S. Dramatic Competition category, the festival chose to open with a film whose title might feel particularly poignant to many of us right now: I Don't Feel at Home in This World Anymore. By first-time writer-director Macon Blair, the movie isn't political so much as culturally minded, and Putnam highlighted its emphasis on the feeling of alienation. Director of Programming Trevor Groth pointed out that I Don't Feel at Home was one of many films at Sundance that took on new meaning after the election, citing Cary Murnion and Jonathan Milott's Bushwick (a modern civil war rages in Brooklyn after Texas secedes from the Union) and Miguel Arteta's Beatriz at Dinner (a Mexican immigrant confronts white billionaires) as prime examples.
Regardless of the programmers' intentions, though, we needed more of Redford's wisdom. He'd mentioned that before filming All the President's Men, he followed Bob Woodward, Carl Bernstein, and Washington Post executive editor Ben Bradlee in the wake of Watergate. Could he tell us how these "dark times," as he'd called them, compared to what he'd experienced with Nixon?
He replied that he actually had to revisit that film not too long ago for a 2013 Discovery documentary, and had initially been resistant. "I just felt like that time has gone by and things have gone downhill since then, but I'd rather not revisit it; there's nothing new to be said." Then, while watching archival footage of the Senate grilling former White House Counsel John Dean in the Watergate Hearings, he had "a realization that made me sad, about something being lost having to do with our country."
Continued Redford: "What I saw was the panel was made up precisely of both sides, both Democrats and Republicans, all acting as one, trying to get to the truth, and that hit me like a ton of bricks when I revisited. I said, 'Oh, so there was a time.' And maybe there's a new title that should come out that says, There Was a Time. There was a time when the two sides did work together. That's what makes you depressed about today."