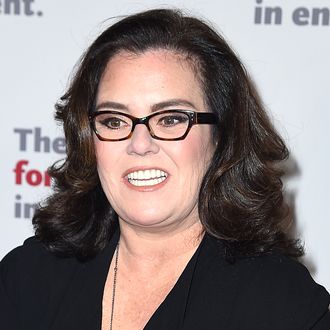 Photo: Nicholas Hunt/Getty Images
Lest we forget what the new year brings, Rosie O'Donnell is here to remind us. Over the weekend, O'Donnell — whose Twitter bio reads, "2017 - TIME TO YELL" renewed her feud with President-elect Donald Trump on Twitter with a stream of tweets calling him "a criminal," "a sick man," "mentally unstable," "the world's worst human," and more. Beginning with a response to Trump's tweet on New Year's Eve, in which she talked about resistance, O'Donnell rang in the new year with an all-caps tweet, "TRUMP IS A CRIMINAL," and linked to an MSNBC article titled "Trump keeps pulling the same trick because it keeps working." She continued with links to other articles that criticized Trump from CNN, the Huffington Post, and BuzzFeed. Most recently, O'Donnell responded to Fox & Friends coverage of her tweets.
Read some of her tweets and responses below.