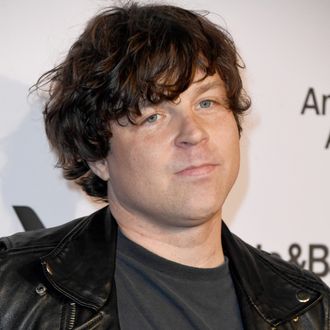 He woke up with Trump on the mind.
Photo: Frazer Harrison/Getty Images
Ryan Adams is a man who doesn't lack for songs stocked away in his memory to cover on a whim — he's been a human karaoke machine long before he ever re-created an entire Taylor Swift album front to back. Which is why when Adams showed up to BBC Radio 2 over the weekend to sing a couple songs other than his own, it didn't take him long to decide to cover Radiohead's comical anti-establishment hit "Karma Police" acoustically as a bit of wishful thinking to send out into the world as it crumbles. "I don't know if I've learned [the song] in a great new and interesting way, but I also thought it's fitting, because there's a pretty awful person who just got elected in the United States. So I don't know why, but that song popped into my head this morning," he explained of his song choice on air. A song that describes a man who "talks in maths," "buzzes like a fridge," and sounds like a "detuned radio" who should be arrested — nope, we can't see why that would come to mind either.