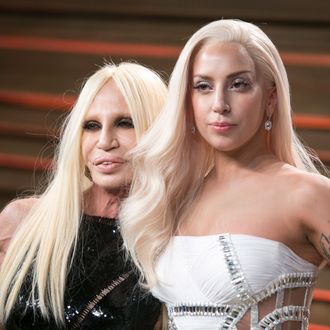 Photo: ADRIAN SANCHEZ-GONZALEZ/AFP/Getty Images
In these times of uncertainty, who can we really trust? Back in November, Us Weekly reported that Lady Gaga would be filling the role of Donatella Versace in the upcoming Versace/Cunanan: American Crime Story. It was a casting choice so right it almost felt like a stroke of destiny, but now, Ryan Murphy tells Variety that Gaga was never even in serious contention for the role. "She's a friend. But she's very busy this next year. She's doing Super Bowl and then she's doing A Star Is Born, and I believe that she's going on tour. And when you're going to do a show like Versace, it's a five-month commitment, it's a very big show, we're shooting it all over the world. So I just don't think with her schedule, I knew that it would never had worked." This comment, however, comes after Murphy gave a wink and a nudge answer at EW PopFest last year when he was told Gaga would be a perfect fit for the part of Donatella. "Ya think?" is what he said at the time.
Bear in mind, however, that Murphy is also a guy who okayed the release of 700 fake teasers in the lead up to American Horror Story season six just to obfuscate the actual theme of the show. Network CEO John Landgraf also said today that AHS season seven will once again be "shrouded in super secrecy," so basically, these are people who delight in toying with us. Murphy's comment on Versace/Cunanan is the official record, but stay vigilant inside this house of deceptions.