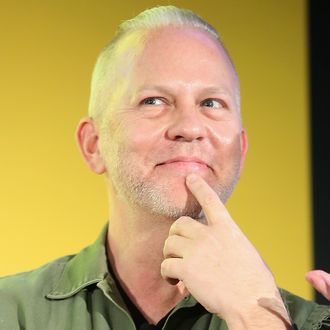 Photo: Monica Schipper/Getty Images for Entertainment W
Ryan Murphy has committed to no sleep for something like the next three years. According The Hollywood Reporter, the megashowrunner has just snatched up the rights to Jeffrey Toobin's book A Vast Conspiracy: The Real Story of the Sex Scandal That Nearly Brought Down a President, and Variety subsequently confirmed that it will serve as a future season of American Crime Story. The idea of Murphy putting the salacious political circus that was the Monica Lewinsky scandal onscreen is so appropriate it's almost as if Murphy went back to 1999 and told Toobin to write the book so he could develop it 18 years later. He's the same author, of course, whose book The Run of His Life: The People v. O.J. Simpson served as the foundation for the first season of Murphy's breakout anthology project. THR reports that the Clinton/Lewinsky ACS is being fast-tracked, and that meetings are already taking place with actresses to fill out the roles of Lewinsky and Linda Tripp.
Remember, too, that there are already two seasons of Crime Story in development, one focusing on the aftermath of Hurricane Katrina, and the other on the 1997 murder of Gianni Versace at the hands of Andrew Cunanan. Although the tentatively titled Versace/Cunanan season will be filmed first, FX Networks CEO John Landgraf said at a press conference last week that Katrina will run first in 2018 with the cycles airing six months apart. We will also soon see the debut season of Murphy's next anthology series, Feud, on March 6, so FX is going to keep serving hot drama for years and years to come.