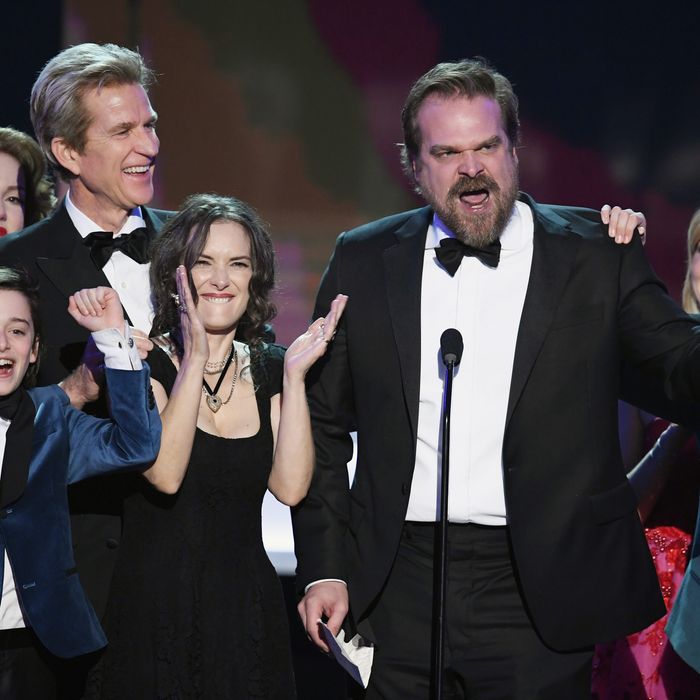 The cast of Stranger Things at the SAG Awards.
Photo: Kevin Winter/Getty Images
After a weekend dominated by news about the president's refugee ban and the ensuing protests in various American cities and airports, sitting down to watch a Hollywood awards show felt like an even more frivolous act than usual. But Sunday night's Screen Actors Guild Awards, as a piece of television, turned out to be a surprisingly cathartic experience that delivered a bit of escapism, some unexpected wins, and personal reflections relevant to what's happening in the country.
Most of us have learned not to expect much from awards shows. Even the junkies who still get some weird contact high from awkward teleprompter banter often find that these affairs last too long and become bloated with insidery thank-yous. The SAG Awards ceremony, which concentrates solely on film and television acting, has always been more focused in this regard. Only 13 awards are presented during the program, which airs on TBS and TNT — the honors for stunt ensemble are announced off camera — and there is neither a host nor an attempt to inject comedy bits and musical numbers into the proceedings. The SAG approach has always been: hand out the awards, let the winners make their speeches, then get out. That format always makes the SAGs happily succinct, but under ordinary circumstances, it also can make them a little dull and overly rote.
As we all know by now, these are not ordinary times, and the SAGs reflected that. From the traditional "I'm an actor" opening — in which Kerry Washington insisted right off the bat that actors are, by nature, activists — to the first acceptance speech of the evening from lead actress in a TV comedy winner Julia Louis-Dreyfus of Veep, it was obvious that everyone inside the Shrine Auditorium had politics and social justice on the front burners of their minds. "I'm an American patriot," Louis-Dreyfus said after explaining that she is the daughter of an immigrant, her late father, who fled Nazi-occupied France. "I love this country, and because I love this country, I am horrified by its blemishes. This immigrant ban is a blemish, and it is un-American."
The best speeches of the evening similarly evoked the personal to make their point. Mahershala Ali, honored as best supporting actor on the film side for Moonlight, spoke articulately about the connection between lifting up those who feel marginalized, something his character in Moonlight does, and the current cultural climate. He did that without ever mentioning the guy who occupies the Oval Office.
"When we get caught up in the minutiae, the details that make us all different, I think there's two ways of seeing that," he said. "There's an opportunity to see the texture of that person, the characteristics that make them unique. Then there's an opportunity to go to war about it, and to say that person's different than me. I don't like you. Let's battle. My mother is an ordained minister. I'm a Muslim. She didn't do backflips when I called to tell her I converted 17 years ago. But I tell you now, we put things to the side. I'm able to see her, she's able to see me. We love each other, that love has grown, and that stuff is minutiae."
Where Ali spoke with soft dignity, David Harbour, designated spokesperson for the cast of Stranger Things, which won for  best TV drama ensemble, barbarically yawped his way through a speech that used the language of the series as a way to convey solidarity. "In the continuing narrative of Stranger Things, we 1983 Midwesterners will repel bullies," Chief Hopper said to great applause while Courtney B. Vance looked on incredulously from the audience. "We will shelter freaks and outcasts, those who have no home. We will get past the lies. We will hunt monsters. And when we're at a loss amidst the hypocrisy and the casual violence of certain individuals and institutions, we will, as per Chief Jim Hopper, punch some people in the face when they seek to destroy the meek and disenfranchised!"
The only thing more emotionally charged than Harbour's words was the full musical scale of emotions that played across Winona Ryder's face while he was talking. Was Ryder a little drunk, or just overly expressive because she was caught up in the shock of having won an award that, honestly, most people thought would go to The Crown? It didn't matter. In roughly a minute and a half, Ryder summarized the vast array of conflicting feelings many Americans have experienced since the inauguration. Actually, in that minute and a half, she might have captured every feeling every human being has ever had in his or her life. Witnessing it was a gift that also, inevitably, produced several GIFs.
Other visuals during the SAGs were pretty striking, too, including the kaleidoscope of races and ethnicities that crowded the stage when all 875 (number approximate) members of the Orange Is the New Black cast accepted best comedy ensemble for the third year in a row, and the image of the three African-American stars of Hidden Figures, which won for best film ensemble, standing in the center of the frame as representatives of three black women whose achievements were long obscured by history.
"This story is about what happens when we put our differences aside and we come together as a human race," Taraji P. Henson said while accepting the award. She didn't make a much more pointed statement about racism or politics than that, but she didn't have to. Just seeing her alongside her co-stars Octavia Spencer and Janelle Monáe, both of whom were visibly crying — Cindi Mayweather was weeping on TV, and it nearly broke me, guys — was statement enough.
There was plenty on the SAGs that still qualified as standard awards fare. Denzel Washington thanked a bunch of people that most people watching had never heard of; Paulson, who won yet another award for The People v. O.J., thanked Marcia Clark for what felt like the 15th time in the past year; Dolly Parton presented the lifetime achievement award to Lily Tomlin and made 18 jokes about her boobs while doing so. But there was also real, unfiltered joy that burst through the TV, most notably when Ali, Viola Davis, Washington, Orange Is the New Black, Claire Foy of The Crown, and Stranger Things won, and again at the end of the night when Hidden Figures did. Everybody seemed more grateful than usual, as if they were mindful of their blessings as well as those who aren't as blessed.
Awards shows are silly and self-congratulatory, and when actors speak of current events or causes, they skate a very fine line between projecting humble social awareness and grandstanding for personal glory. (For more on this, see Tom Hiddleston's speech at the Golden Globes.) Everybody stayed on the right side of the line last night, expressing themselves at a fraught national moment in a way that seemed to emanate more from a sense of duty than partisanship. (Again, I don't think a single person said the name Trump. The words Republican and Democrat were not spoken either.)
Hollywood is full of bullshit, even on its best days. But even if the winners didn't always jibe with one's expectations, for the most part, the SAGs this year was refreshingly free of bullshit. Come the end of February, we'll see if the Oscars are able to say the same.