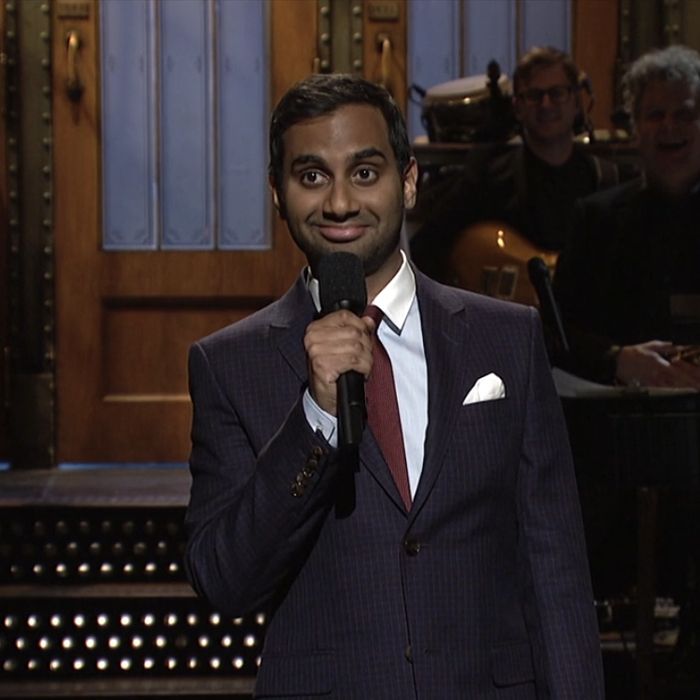 Although this is his first time hosting Saturday Night Live, Aziz Ansari has all the credentials needed to make him a good one. He's done grounded acting in the Netflix series Master of None, played broader characters in sitcoms like Parks and Rec, worked as a sketch comedian on MTV's Human Giant, and, of course, his stand-up experience means he's got great timing. Plus, Ansari's joyful, exuberant presence will definitely be appreciated after the inauguration.
Putin Cold Open

In this Trump-free cold open, Vladimir Putin (Beck Bennett) congratulates America, saying, "We all made Trump 45th president of the United States." Looking to assuage any fears about the part he'll play in Trump's administration, Putin declares that the U.S. is "the most expensive thing we've ever bought," and mentions that anyone skeptical of his rule in Russia has just disappeared somehow. Then Putin hauls out one of SNL's regular characters, Olya Povlatsky, to testify about how great things are in Russia. "I sleep in bed," she says, unconvincingly, "Not in carcass of dog." Even without Alec Baldwin pouting and preening in the background, this is a pretty scathing indictment — and surprisingly, Donald Trump hasn't tweeted about it yet.
Aziz Ansari Monologue

Like many comics who host SNL, Ansari uses his monologue as a platform for his stand-up routine, in which he talks Trump and examined the divide between liberal Americans and the 63 million people who voted for Trump. The small percentage of extremist Trump supporters, which he calls the "lower-case KKK," are making things harder for moderates. To make up for the negativity, he argues, there need to be more reports of brown people doing things like eating nachos. "Nasir got a little cheese on his khakis," he says. "We've all been there." Even if the monologue won't win any of the lower-case kkk, it's a nice play for middle America.
Beat the Bookworm

Anyone who had heard Ansari's signature whine ("Noooooo!") will immediately know why this game-show parody made it to air. Contestant Cindy (Vanessa Bayer) faces a besuited know-it-all called the Bookworm (Ansari), who is book-smart but bottoms-out when quizzed about '90s pop culture. "Noooo! I spent the '90s reading books!" he whines, before telling the game-show host (Mikey Day) that Super Mario's brother was named Kevin and that Michael Jackson was known as "King of the Jews." Though the lead-up takes a couple of minutes, the run of the Bookworm's clueless fill-in-the-blank flubs is worthwhile.
La La Land Interrogation

A police interrogation gets nasty when a pair of detectives (Cecily Strong and Beck Bennett) shake down a suspect (Ansari) about why he doesn't love awards-darling La La Land. When the detainee grouses about the excessive montages, mediocre musicianship, and absence of black characters, the detectives sneer, "It's a perfect film!" When the perp confesses that he fell asleep for a moment, things get even worse. Defending their vaunted flick against the idea that it lacks substance, they cry, "It's just lovely and that's okay!" It's a wonderfully executed jab at those who love the whimsical musical — and I'll say the controversial thing myself — without sufficient reason.
Kellyanne Conway
This to-the-point parody of a musical number from Chicago casts Trump spokesperson Conway (Kate McKinnon) as the fame-hungry murderer Roxie Hart. Conway believes that if she shows up wearing sleeveless dresses "on any show they let [her] do," and tells lies well enough, eventually Google will auto-fill her name before it does Kanye. This number provides the works: a sparkly dress, dancers in tuxedos, and even Conway's name in lights. "When the world goes up in flames," she concludes, "At least I'll know they knew my name." It's a delightful flip-side of the beleaguered character SNL imagined in the "A Day Off" short — and there might actually be some truth to it.
Attorney Ad

In this ad parody, Kate McKinnon and Bobby Moynihan play ambulance-chasing lawyers Broderick & Ganz, who seem to score large sums of cash for all their clients but one. While some got millions for spilling hot coffee on themselves, a poor, hapless guy (Ansari) who was buried in concrete for three days got a mere $6,000. Turns out, Moynihan's character is wildly inept, showing up in the courtroom late and blacking out while wearing "two different New Balance sneakers." This is a rare commercial parody that not only provides great details, but continues to surprise as it unfolds.
Weekend Update

In the first half of Update, Colin Jost and Michael Che have plenty to say about the inauguration. Che gets great mileage out of a picture of Michelle Obama wearing a disapproving look that just says, "Umph." While talking about the inaugural concert that featured Three Doors Down and Lee Greenwood in front of the Lincoln Memorial, Jost declares, "It is the second worst live performance Lincoln has ever attended." After Che's bit about what makes a feminist, Leslie Jones slides onto the set to talk about the success of Hidden Figures. While she's happy black women were involved in sending astronauts into space, she'd rather not go there herself because "it's where the Predator comes from."
The second half takes on a grab bag of headlines, including the announcement that McDonald's will now make two versions of the Big Mac: "one for each type of diabetes." The final bit is a live report from "the Friend Zone" made by sad, sexless Jake Rocheck (Mikey Day), a guy who helps his lady-friend move into her house and comforts her when she's down, but has to spend his time "actively suppressing erections." All who have spent time in the Friend Zone will find his plight all too familiar.
Bedroom

In an attempt to inject some foreplay into a staid sexual routine, a guy (Ansari) encourages his partner (Melissa Villaseñor) to talk dirty. Rather than just go about it in the expected way, the lady starts talking about her man's alcoholic tendencies, how she makes more money than he does, and calls him "Dad" instead of "Daddy." She can't even play-act the part of a student: When she gets called into the principal's office, it's because she "brought a gun to school." It's a simple premise that succeeds on the basis of solid, funny jokes. Also, it's exciting to see Villaseñor finally get some room to play. This dorky, chipper, clueless type will hopefully show the writers where else she can go.
Five Stars

After realizing that their respective ratings in the Uber app are lackluster, a driver and a passenger each decide to be on their best behavior in the hopes of getting good marks from the other. The passenger (Ansari) racks his brain for juicy, original questions to ask, but only comes up with "How long you been driving?" For his part, the driver (Bobby Moynihan) ends up asking about the passenger's religion while trying to avoid controversy. After some half-hearted banter and an awkward foot massage, both parties decide to be themselves and bond over their love for Black Mirror. The awkward courtship ritual will no doubt be familiar to anyone who has gone out of their way for that elusive five-star rating.
Pizza Town

When police track down a criminal in an abandoned kids' party palace — think Showbiz or Chuck E. Cheese's — they flip a switch in the fuse box and an animatronic band led by Peppy Ronnie (Ansari) comes to life. The overtly dopey jingle and corny jokes make it hard to complete their arrest, though one of the cops (Kenan Thompson) really digs the entertainment. Interestingly, the band's signature pizza-themed jam feels a lot like "Lisa," one of the few songs from comedy band Don't Stop or We'll Die, which featured Ansari's pal, the late Harris Wittels. If that's an intentional thing, it's a charming little nod in Wittels's direction.
To Sir With Love

This cover of "To Sir With Love," from the Sidney Poitier film of the same title, stands as a tribute to President Obama. Although performers Cecily Strong and Sasheer Zamata don't offer the most melodious voices, it's a heartfelt gesture that echoes Obama's own earnest attempts to sing in public. There are no gags until the duo offers the gift of a "World's Greatest President" coffee mug, and then they ask Obama not to go. It's a sentiment a lot of people surely share.
This week's show exhibited a lot of fantastic writing and performances. Ansari was just as happy and playful as you might imagine; he plays silly characters including the Bookworm and Peppy Ronnie with a great commitment, and finds nice little moments even when he plays the straight man in sketches like the Bedroom. It's the sort of first performance that will surely get him invited to host sometime down the road.