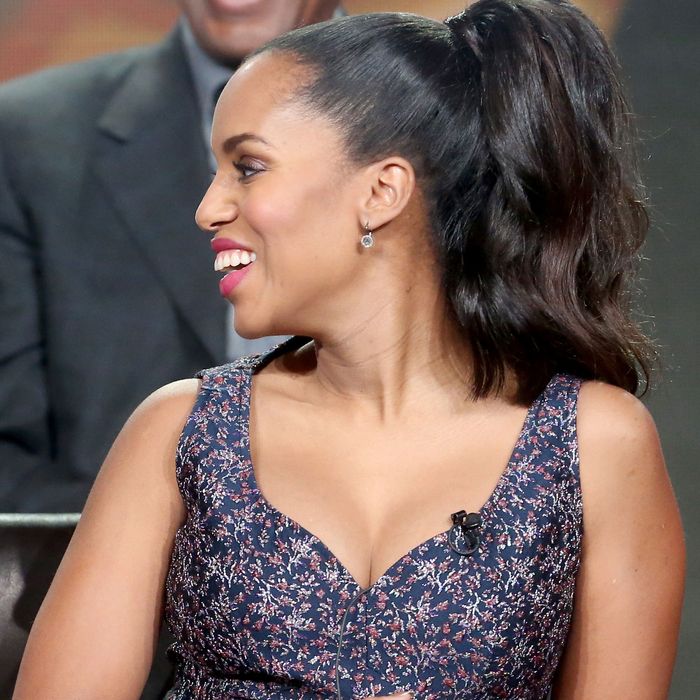 L-R: Tony Goldwyn and Kerry Washington at TCA.
Photo: Frederick M. Brown/Getty Images
Scandal has been one of many series that offered a parallel to what was happening with the U.S. presidential election in 2016. Last season ended with Bellamy Young's Mellie Grant, a former First Lady and senator, waiting to see the outcome of her bid for the White House. A lot has changed, both on the show and in the real world since the season-six premiere episode, which aired on January 26, was filmed in July. Scandal creator Shonda Rhimes and producing partner Betsy Beers joined cast members at the Television Critics Association press day on Tuesday at the Langham Huntington hotel in Pasadena, California, to share details about the new season and the challenge of airing an alternate universe to the incoming Donald Trump presidency.
The cast was vague on how their election night episode will differ from the real one.
"I don't really equate the two," says Rhimes. "That's not the goal, obviously. If that were the goal, we'd wait until after the election to write about an election. The goal was to tell the story about an election and the journey." Young agreed, adding, "I keep it pretty separate because our world is a complete fiction. When we came together in July and read those first five scripts [of this season], they were so beautiful … You find out the results of the election immediately, but you go back in time and focus on different characters and how they got to that moment."
Although they were on hiatus at the time, the cast did find each other to bond leading up to the election.
"It was interesting that we weren't working and so we weren't all together," says star Kerry Washington. "Over these years, these have become the people I'm closest to in many ways … it was strange to have to find each other in hiatus." Washington says she emailed co-star Joshua Malina to comment on his strong social-media responses to the election.
This season will have a lot of flashbacks.
"Because of the way we laid out this season, we really do have this beautiful way of telling this season this year where we're really stepping back in time and going forward in time and seeing things from different characters' perspectives," Rhimes says. "It's not really about crazy things happening to the characters, it's about where they come to after all this time … It's very different from any other season we've had, so I can't really judge it against what we've done before or what we may do."
Rhimes doesn't pay attention to ratings.
"Ratings are not, as far as I'm concerned, real or true anymore," Rhimes says. "I feel incredibly grateful that we're in our sixth season and nearing our 100th episode and we're not talking about ratings as if that's a concern. We are doing something that very few shows get to do anymore, which is to run this long and do it this successfully."
Having a shorter season made for "stronger storytelling."
"I was delighted. It was a thing that I wanted and asked for and said I wanted to do in the middle of last season," says Rhimes. "It was a relief and it was exciting to be able plan the season knowing the length would be shorter. It made for stronger storytelling, and you didn't have to tread water every once in a while."
President Grant may be more effective when he's unemployed.
"Ultimately that's a question for Shonda, but she won't answer it," says Tony Goldwyn. "This is just me, I don't speak for Shonda, but from the very beginning one of Fitz's personal struggles: I thought he thought he could be more effective outside of the presidency than in it. I think he's always had a fantasy with what he could actually do."
It wasn't easy for Kerry Washington to act while pregnant.
"It's been really interesting for me as an actor," says the actress, who recently had her second child. "I work very physically. How I approach a character often has a lot to do with the physicality of that character, so the challenge is my physicality changing dramatically … and trying to figure out how to hold onto her physical position in the world while mine has been changing every day has been really difficult."
Does Malina worry that his strong personal opinions on Twitter will hurt him or the show?
"I worry if I'm ever going to work with Tom Hiddleston," he joked, referring to his remarks critiquing the Night Manager star's Golden Globes speech. "One of the great joys of being criminally underrated as an actor is I'm shooting below the radar."