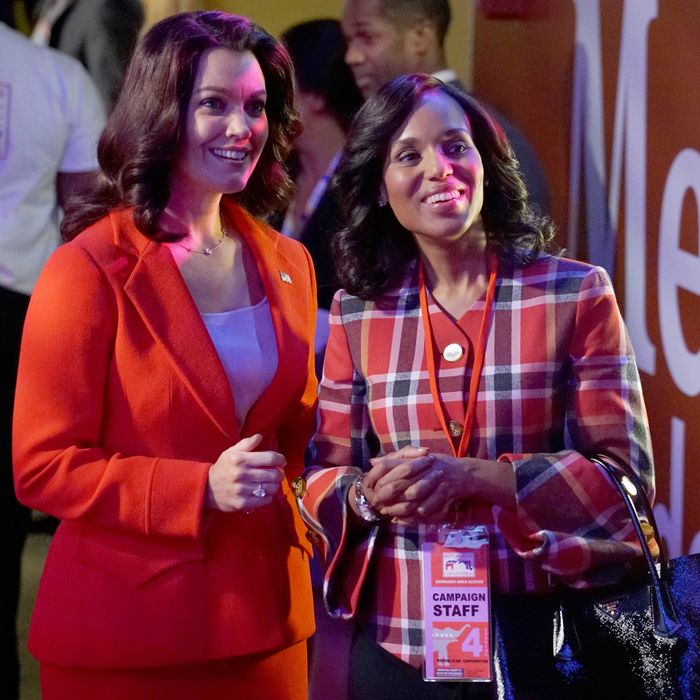 Bellamy Young as Mellie, Kerry Washington as Olivia.
Photo: Byron Cohen/ABC
Tonight, ABC finally welcomes back ShondaLand Thursdays — sorry, Notorious, but you were adopted — and its crown jewel, Scandal, which is coming off its longest hiatus ever. (The show was delayed to accommodate Kerry Washington's pregnancy, lest Olivia Pope spend another season standing behind columns.) Given Scandal's addiction to wackadoodle twists, it's hard enough remember what happens from one episode to the next, let alone after eight months, so here's a quick briefing on where D.C.'s messiest gladiators left off at the end of season five.
Olivia Pope
America's favorite political consultant was back to doing to what she does best: convincing the country that a duplicitous, power-hungry Grant should be the next president. This time, however, that Grant was Mellie, the former FLOTUS, who reaped the benefits of Olivia's political prowess in her race against Democratic candidate Francisco Vargas. Olivia began the fifth season feeling ambivalent about her proximity to absolute power, but ended it ready to lead Mellie to the White House. With Cyrus, who backs Vargas, also gunning for the presidency, is Olivia still sharp enough to defeat a foe who knows all her moves?
Fitz Grant
President Grant is the biggest question mark going into season six, since he was last seen throwing his executive weight and 59 percent approval rating behind his ex-wife's candidacy. Fitz's relationship with Olivia is more off-again than ever, but to his credit, he was kind and supportive when he found out that Olivia got a discreet abortion without his input. With no role in the White House or in Liv's bed, how Fitz will factor into Scandal now is anyone's guess. Anybody want to bet we'll see an episode called "Lame Duck" before the season is out?
Cyrus Beene
In the most Cyrus move ever, the talented Mr. Beene conned his way onto the Democratic ticket alongside Frankie Vargas, but the sword of Damocles can fall any second. After all, he's hiding the fact that he engineered a "random" hostage situation to make Vargas play the hero in front of the press. The ruse won Vargas enough popularity to secure his nomination, but at the cost of several innocent lives. There's also the matter of Tom Larsen, the remorseless Secret Service agent who became Cyrus's side piece and wet-work expert. Cyrus coldly dumped him without notice in favor of his bland husband, James, but Tom doesn't seem the type to leave such a slight unanswered.
Mellie Grant
The thirsty, power-hungry Mellie ended the fifth season where she belongs: at the top of the Republican ticket and prepared to step out of Fitz's shadow once and for all. Assuming Mellie clinches the election, she'll have to contend with her vice-president, Jake Ballard, who is still involved in some nefarious Eli Pope plan that's yet to be revealed. On the bright side, there may be some scandal-worthy sex in Mellie's future: The simmering romantic tension with her body man, OPA newbie Marcus Walker, remains unsettled.
Abby Whelan
Fitz isn't the only one soon to be out of a job. As the press secretary for the outgoing POTUS, Abby faces a huge transition as well. The question is: How big a role will Olivia play in her next job? At one point, Olivia offered Abby her old position at OPA, but because Abby's as proud and ambitious as the woman she learned the business from, she refused. Will Abby's new role afford her the opportunity to make up with her estranged best friend?
Eli Pope
As always, Papa Pope is caught up in some elaborate skulduggery that involves Jake, a secret power play, and the half-billion-dollar estate Jake's set to inherit after hastening the death of his father-in-law. What evil scheme is Eli hatching this time, and how long will it be before he's inviting Olivia to dinner as if it never happened? We'll soon find out.
Huck, Quinn Perkins, and Marcus Walker
As the backbone of OPA, Marcus, Huck, and Quinn's chief responsibilities in season five were … well, they mostly just stuck a bunch of photos on the wall in the OPA war room. Aside from that steamy tension between Marcus and Mellie, these gladiators were more or less sidelined at the end of the season. Let's hope they've got enough tape for that photo wall.