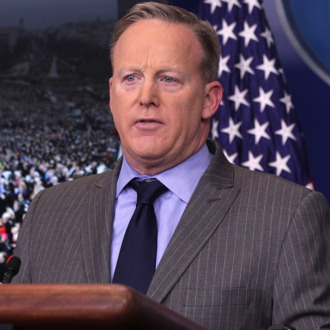 If you found the new White House Press Secretary Sean Spicer's first official statement embarrassing (the one in which he tried to claim photo and video evidence of President Trump's less-than-record-breaking inauguration crowds was the result of the media undermining the full might of the audience), then, boy, does the internet have some tweets for you. During the 2014 Grammys, the Trump spokesman decided to tweet about a little duo that was performing that night. "Daft Funk — this is your 10 seconds in the spotlight — u r blowing it," Spicer wrote. Despite getting Daft Punk's name wrong and seeming to have no knowledge of the many ten seconds in the spotlight they had already achieved, he went on to write: "was an early and still fan but come on helmets? tey [sic] need to grow up." 
Daft Punk's signature helmets, which they've worn during most of their performances and public appearances since 2001, aren't the only branding choice Spicer has trouble with. As the A.V. Club points out, Spicer has also feuded with Dippin' Dots over the treat's slogan, "ice cream of the future," for half a decade. He even went so far as to tweet gleefully, "ice cream of the past" when The Wall Street Journal reported that the company filed for bankruptcy.
So, guess we should scratch Spicer off the list of advisers who might convince the 45th president to use Twitter less often?