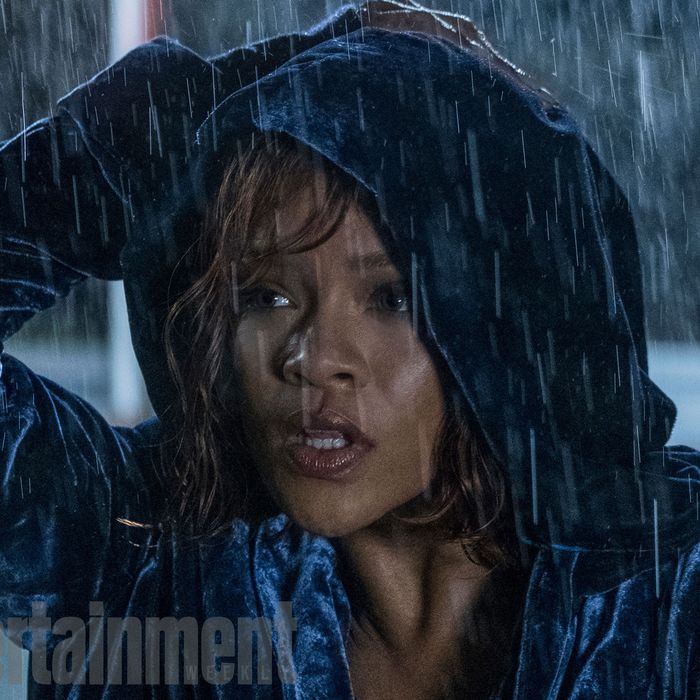 Where is your umbrella-ella-ella?
Photo: A&E
Between Ocean's 8, Valerian, and now Bates Motel, we're all going to have to get used to Rihanna, actress. After the news broke last summer that Rihanna, who is apparently a big Bates Motel fan, would show up to play Marion Crane (the iconic Psycho victim played by Janet Leigh), we now have a first look at the pop star in the A&E series. According to EW, which debuted two images of Rihanna's character as well as a brief trailer for the series' final season (she shows up about 45 seconds in), Rihanna will check in for a "multi-episode appearance." At the end of it, she will (spoiler alert) probably die.
"We're taking threads of that story and definitely using them so it's recognizable, it's just where we go with it is very different," executive producer Kerry Ehrin said in an interview with EW. "It's tough to be in a situation where you're in love with a guy, and for whatever reason, he keeps stalling. You still have all this hot sex with him, and he's saying he loves you, but he's stalling. The internal story of that, for a woman, is a really interesting one. We never really got to see that. In Psycho, you just see the outside of that more. It was trying to do a story about a contemporary woman with some edge, with some expectations, who isn't perfect, who isn't always perfectly sweet, who is in that situation, but we're rooting for her to get what she wants." (I mean, we're always rooting for Rihanna to get what she wants.) Bates Motel returns on Monday, February 20.