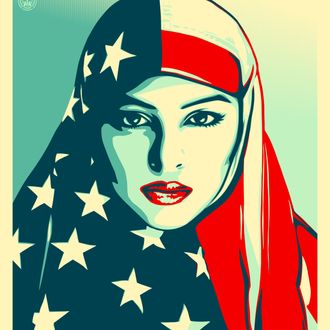 One of the new Shepard Fairey posters.
Photo: theamplifierfoundation.org
The artist behind the 2009 stenciled Obama "Hope" posters, Shepard Fairey, has come out with some new posters for today's inauguration. Except instead of featuring Trump, the three different posters feature an African-American, a Latino, and a Muslim woman. According to the Washington Post, Fairey started the We the People Campaign in order to focus on "the groups that Trump disparaged in his campaign and that may feel threatened by the incoming administration." The Amplifier Foundation, a self-described "art machine for social change," started an online fundraiser to launch the campaign and raised over $1.3 million.
"In 2008, I viewed Obama as an inspiring speaker and leader but also someone who would potentially help push progress on a number of issues that I care about," Fairey said in an email to the Post. "Many of those issues were about basic human dignity and fairness. I think that this campaign is similar in its appeal to human dignity and fairness, but different in that the subjects are not people who have aspirations as leaders. They are any and all of us." Fairey's posters have been made free to the public; they're currently being distributed at D.C. Metro stations and can also be downloaded online and printed out. See all three versions below.