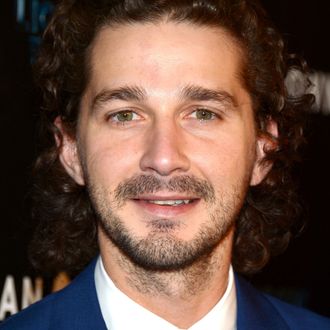 Shia LaBeouf.
Photo: Matt Winkelmeyer/Getty Images
Shia LaBeouf is no stranger to curious uses of streaming video — this is the guy, after all, who livestreamed himself watching his entire filmography in reverse chronological order in 2015. But the Beef is taking his internet ambitions to new heights today with the launch of a caps-locked piece of performance art entitled HE WILL NOT DIVIDE US, co-created by frequent collaborators Nastja Säde Rönkkö and Luke Turner. It consists of a stationary webcam placed on an exterior wall of New York's Museum of the Moving Image, in front of which people are invited to place themselves and intone the words "he will not divide us." The footage will be broadcast live on the web at hewillnotdivide.us, and the piece will be in operation 24 hours a day for the duration of Donald Trump's time in office. Participants can say the phrase as many times as they want, for as long as they want — the idea is that it will become a "mantra" that "acts as a show of resistance or insistence, opposition or optimism, guided by the spirit of each individual participant and the community." Hey, every little bit counts.
The first participant, as it turned out, was none other than Jaden Smith! An anonymous tipster sent Vulture these on-the-scene photos of the kickoff, in which you can see LaBeouf sitting pensively against the wall.