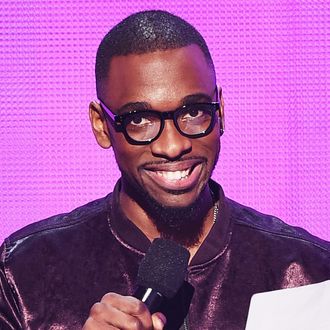 Jay Pharoah.
Photo: Kevin Winter/Getty Images
Showtime is not afraid of long-term commitments. At its Television Critics Association panel today, the network announced that it has picked up two new series. The first is White Famous, which is based on a semi-autobiographical idea by Jamie Foxx and stars ex-Saturday Night Live player Jay Pharoah as a comic looking to court white audiences. Tom Kapinos (Californication) is writing the series. The second new series is The Chi, a coming-of-age drama created by Master of None's Lena Waithe about kids growing up on the South Side of Chicago. Jason Mitchell (Straight Outta Compton) is starring in the series, while Elwood Reid (The Bridge) is acting as the showrunner and Rick Famuyiwa (Dope) is directing the pilot.
In addition to those pickups, Showtime also decided to renew The Affair for a fourth season, and announced premiere dates for its new dramas Guerrilla and I'm Dying Up Here. Guerrilla, a drama set in 1970s London from John Ridley starring Idris Elba, will premiere on April 16. I'm Dying Up Here, which is set in the 1970s L.A. comedy scene and stars Melissa Leo, will premiere on June 4.