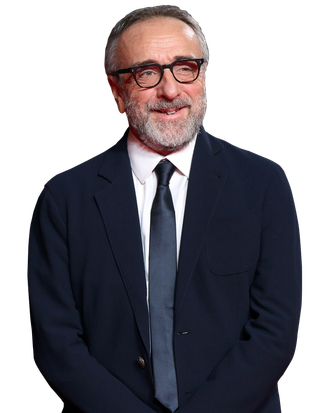 Photo: Elisabetta A. Villa/Getty Images
Of all of the actors on HBO's new love-it-or-hate-it religious drama The Young Pope, perhaps none have been met with such unexpected fanfare as seasoned Italian actor Silvio Orlando. He portrays the delightfully sly Cardinal Angelo Voiello — a dual camerlengo and cardinal secretary of state under Jude Law's Pope Pius XIII — who tries everything in his power to compromise Pius's reign. "Have you ever asked yourself how I've managed to run the papal state for all of these years?" he chillingly explains in a recent episode to a monsignor he busts for a drinking problem. "No vision whatsoever. But by placing importance on the irrelevant things. And do you know how I manage to learn all of the irrelevant things that no one wants to tell me? By learning people's secrets, and threatening to reveal those secrets to the pope." Get ready for some grade-A holy drama. With the help of a translator, Orlando talked to us about his mischievous role, working with Jude Law, and that fantastic fake mole he sports on the show.
You've been acting for a better part of 25 years, but this is your first breakthrough role in the U.S. Can you walk me through how you and Paolo became acquainted, and why you became involved with the show?
I was lucky enough to act in some of Paolo's first scripts in the late '90s, when he wasn't a director yet but a screenwriter. Then we lost sight of each other. By the time he'd made his eighth film, he still hadn't ever hired me and I'd lost all hope of entering his magical world. Then the audition for the role of Cardinal Voiello came along — an audition that went very well, also because other Italian actors of my generation have more difficulties than me with foreign languages. So I found myself on this great train that has given me the opportunity to take part in a real international project, which had an all-Italian locomotive.
Prior to filming the series, were you actually able to meet with any cardinal secretary of states or camerlengos in the Catholic Church to better inform your role?
No, I never met any of them, but I live in Rome in a building owned by the clergy and am surrounded by priests, nuns, and seminarians every day. So it's a world I can observe on a daily basis. Every day I am plunged inside a mysterious and mystical atmosphere, but one that also includes those small things that make up everyday life.
Voiello begins the series as a seemingly normal cardinal, but it's quickly revealed that he runs the Vatican with an iron fist and resorts to vicious blackmail if necessary. Where do you think his motivations lie? Is he genuinely looking out for the good of the church?
Voiello says he has no real aptitude for the priesthood. He likes to stay close the gospel and take care of the Vatican, which like any country in the world has its state interests. I think he is sincerely motivated and that he acts for the good of the church. But the fact that the good of the church doesn't necessarily coincide with the good of Christians is a different story.
He also says he has no desire to become the pope some day. Do you believe him?
Yes, because it's part of his political realism. Voiello's idea is that popes come and go, but the Voiellos of the world always remain.
Has the show made you confront or question your own faith in ways you didn't expect?
The doubts that arise in my character are not of the mystical or theological kind. He is concerned with keeping the pieces together. His mission is more political than religious, so the real doubts about faith I posed to myself arose more when I watched the series than when I was acting in it.
You and Jude Law have a really delightful, yin-and-yang dynamic going on in the show. How would you define the relationship between your two characters?
Jude was the perfect work partner, and our theater backgrounds helped us a lot in listening to each other and managing the spaces, almost like on a theater stage. After all, the world of the Vatican is a great big stage on which the main players move according to age-old and very theatrical rituals. The relationship between the two characters is similar to that between cat and mouse — Voiello's power of experience in contrast to Lenny's power of unpredictability.
How scared should the pope be of Voiello?
More than of Voiello, Lenny should be afraid of the decisions made by Paolo Sorrentino, who moves his actions and feelings through his scripts.
As English isn't your native language, how did you approach the challenge of memorizing all of that non-Italian dialogue?
I had lots of coaches, and their psychiatric balance was severely tested by my ability to learn English. Seriously though, acting in another language exposes you to so many risks, first of all, that of taking away the soul from your character. The positive side, on the other hand, is the control of words. Nothing is left to chance. It was difficult, but very interesting.
I'd be remiss if I didn't bring up that fake mole you're sporting as Voiello. How was it decided to include that distinctive aesthetic trait into your character?
It's a way of stressing my lack of attractiveness compared to Jude's extreme handsomeness.
How long did it take the makeup team to apply it to your face? Did it become annoying to have on after awhile?
It was a very quick operation. I didn't spend much time getting it done. During the first couple of weeks of shooting they'd age me a bit. But then when fatigue took its toll, there was no need for that either.
Are you aware of all of the Young Pope memes currently engulfing the internet? If so, what do you think of them?
They're amusing and, besides, when parodies start, it means an increase in popularity. It's a good sign.
Now that you're being exposed to such a wide audience with HBO, do you have any immediate plans to pursue film and television roles in America? I'm sure you'd be quite the welcome face Stateside.
At my age you can usually separate dreams from delusions, but it would be great. Even though I'm afraid the historical moment isn't ideal for me to move to the States.