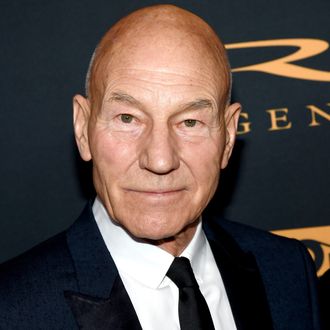 We poop you not.
Photo: Ethan Miller/Getty Images
Famed star of the stage and screen Sir Patrick Stewart is going to act like shit, literally. Today, Sony announced that Jean-Luc Picard himself will play the poop emoji in its upcoming Emoji Movie. Also in the cast: T.J. Miller, who will play the main character Gene; Ilana Glazer, who plays the hacker Codebreaker; Maya Rudolph, as Smiler; Jennifer Coolidge as Gene's mother, Mary Meh; James Corden as Hi-5; and Jake T. Austin as a teen named Alex.
It's just like what William Shakespeare once wrote:
Tomorrow, and tomorrow, and tomorrow,
Creeps in this petty pace from day to day,
To the last syllable of recorded time;
And all our yesterdays have lighted fools
The way to dusty death. Out, out, brief candle!
Life's but a walking shadow, a poor player,
That struts and frets his hour upon the stage,
And then is heard no more. It is a tale
Told by an idiot, full of sound and fury,
Signifying poop.