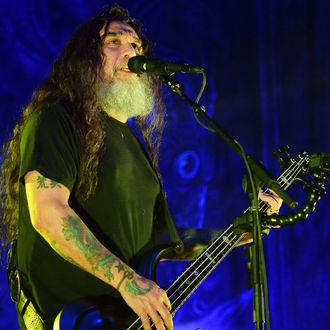 Slayer.
Photo: Ethan Miller/Getty Images
Long before Donald Trump made the term "American carnage" the catchphrase of his presidency, thrash-metal legends Slayer were its foremost purveyors. (They even named a whole headlining tour with Megadeth after the phrase.) Now, all these years later, Slayer and Trump's two very different worlds have collided to provoke a whole new world of carnage online. Slayer singer Tom Araya says that on Inauguration Day he posted a Photoshopped picture of Trump throwing up the sign of the horns alongside Slayer to the band's Instagram account, only to find it mysteriously deleted the following morning. He's since reposted the puzzling photo and would love to know why everyone's so mad he made it in the first place. "I never would have guessed that there where (sic) so many snowflakes commenting their distaste for the new president. Like him or not he is the president," he's captioned the repost.
When some fans replied under the photo in an attempt to bang some sense into Araya's head, he reportedly responded by telling a gay fan "Mike Pence turning fruits into vegetables." Araya has also said his photo and comments don't represent the band — despite the fact that he's posted it all on the band's official account — and that none of this necessarily means he's a Trump supporter: "Thanks […] to everybody that has commented thanks for insight … this is how fake news gets started, not once did I say that I supported trump … and assuming I speak for the band you are mistaking .. the picture did exactly what I thought it would do … piss some of you off." In other words, he just came to do the polar opposite of slay.
Update, January 26: The rest of Slayer have issued a statement distancing themselves from Araya's comments and Photoshop job, saying, "It's not something the band would have posted if asked, and does not belong on a Slayer social page." They continue: "We all have our personal opinions, some of which we have voiced in the past, but Slayer has never endorsed any political party or any candidate, and the band intends to keep it that way."