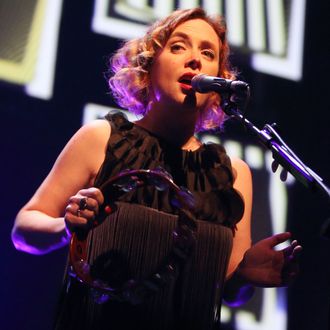 Welcome back to the waking world.
Photo: Burak Cingi/Redferns via Getty Images
Rub the crust away from your eyes and pinch yourself. The rumors are true: You're wide awake and Slowdive's return is fully real. The veteran shoegazers have snapped out of a 22-year coma and returned with their first new song since the band went their separate ways in 1995. Neil Halstead, Rachel Goswell, Christian Savill, Nick Chaplin, and Simon Scott previously revived the act for a 2014 reunion tour, but "Star Roving" is their first new song in decades. According to a statement from Halstead, it's just the first of a "bunch of new tracks we've been working on and it feels as fun, and as relevant playing together now as it did when we first started." If you call a song that sounds like you've stumbled through a wormhole and been launched into outer space to roam the galaxy for the rest of time "fun," then, sure, we're onboard.