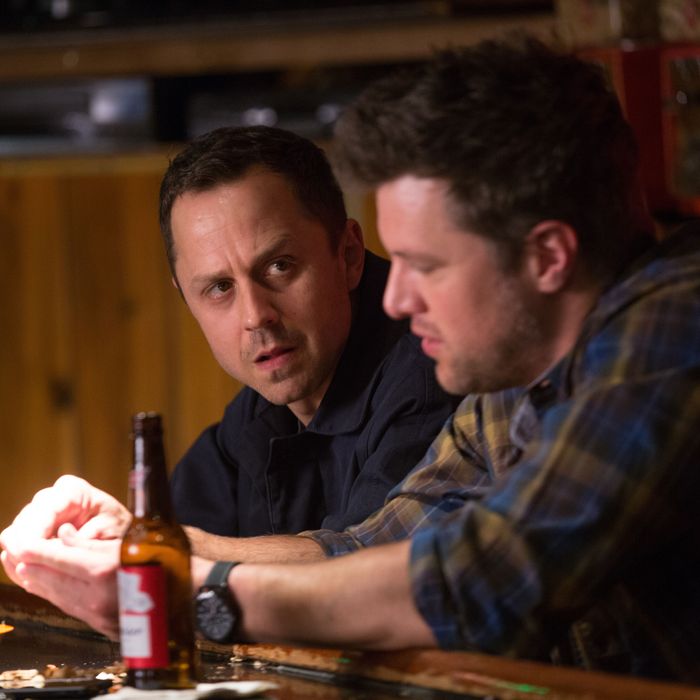 Giovanni Ribisi stars in Sneaky Pete.
Photo: Eric Liebowitz/Amazon
It's no fun being lied to, but watching other people tell lies? It's entertaining and addictive, especially when it's depicted as slickly as it is in Sneaky Pete, the Amazon Original co-created by Bryan Cranston and David Shore (House) and executive produced by Justified's Graham Yost.
The pilot, originally conceived for CBS, then retooled when the series was picked up by Amazon, introduces Marius (Giovanni Ribisi), a con artist who's just out of prison and assumes the identity of his overly chatty cell mate, Pete, in order to hide from a gangster (Cranston) who wants the $100K Marius owes him. In that first episode, Marius goes to the farm owned by Pete's grandparents (Peter Gerety and Margo Martindale), convinces them and several cousins that he's actually Pete, someone they haven't seen in 20 years, then agrees to stay a while and work in the family bond business. By the end of that initial hour, Sneaky Pete appears to be a show about how long a professional deceiver can fake out his new faux family before he gets caught, either by them or the heavies who are after him.
With Yost taking over as showrunner, the show is technically still about that. But what initially looks like a relatively straight-line crime drama turns into an Etch-a-Sketch full of intersecting zigzags, starting with episode two and escalating from there. Apparently Marius isn't the only confidence man in his family … or rather, Pete's family, which is now Marius/Pretend Pete's family. Just about everyone on this series is either not telling the truth or convinced they're being lied to, and usually both. Given the caliber of the actors, watching them dance this particular dance becomes increasingly engrossing. If you've watched TV during the past decade, you already know how delicious it is to watch Cranston in don't-mess-with-me mode, or Margo Martindale switching gears from sweet and maternal to "ooh, that lady's up to something." But this series once again confirms that.
Honestly, if you were building an all-star team of TV actors, you'd probably recruit a lot of the people who pop up in roles, large and small, in this cast: Cranston, Martindale, Gerety, Alison Wright from The Americans, Michael Drayer (Mr. Robot and Vinyl), Marin Ireland, and several other alums of Justified and/or The Wire, in addition to the ones already noted. Then there's Ribisi, who is excellent as a man so conditioned to deceive that he can fabricate and remix that fib if necessary, without even blinking. Mad Men popularized the phrase, "If you don't like what's being said, change the conversation." As "Pete," Ribisi can change the conversation, then change it again, and pick your pocket before he's done.
There's also an edginess to Marius/Pete, an awareness that he's one false sleight of hand away from going back to the slammer or, worse, getting killed, that mirrors the ratcheting tension in the series. There are some brilliantly executed scenes in episode three, for example, that go all the way toward the moment when it would seem that the gig is up, then turn another way and allow the audience to exhale before some other calamity presents itself.
Admittedly, it requires a leap of faith to think that Pete's family would accept that Marius was their long-lost relative, even if he does slightly resemble the actual Pete (Ethan Embry) and, thanks to Pete's constant nostalgia trips in prison, know key details about their backstory. (It also helps that Martindale's Audrey becomes more skeptical of him starting in episode two.) The series has such a strong command of tone and pacing that, like any good con artist, it persuades you to overlook the parts that might not add up. Sneaky Pete is a show about a guy in a pretty serious situation that doesn't take itself too seriously. To borrow yet another phrase popularized by an AMC series, one that happened to star Mr. Cranston, it understands the value of treading lightly. As a result, you may opt to binge heavily.