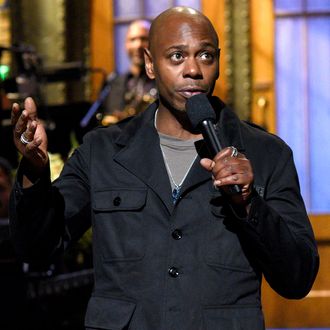 Dave Chappelle.
Photo: Will Heath/NBC
Contrary to what some people may say, the Trump presidency has already been actively bad for comedy. In an interview on WNYC's Leonard Lopate Show, comedian and Daily Show writer Neal Brennan revealed that on the day of the election he and Michael Che wrote a Rick James sketch for Dave Chappelle, who was set to host that week, but they had to can it because it was about Hillary winning. "Michael Che and I wrote a sketch at 9, for Weekend Update," Brennan explained, noting that at 9 p.m. on November 8, we were all pretty happy about America. "It was gonna be a Rick James Weekend Update piece, about how he was glad that Bill Clinton — I'm sorry, Donald Trump, lost. Then me and Che had to rewrite that sketch. We ended up not doing it." So yes, Trump already robbed the nation of Rick James, bitch.
In lieu of material about Hillary's win, Brennan teamed up with Colin Jost the next morning to write SNL's "Election Night" sketch, which captures the reactions of a bunch of white liberals, as well as Chappelle and Chris Rock, to the news of Trump's win. You can listen to Brennan's interview above (the relevant SNL discussion starts 4 minutes in), watch the "Election Night" sketch that actually ran below, and store your dreams of new Rick James material alongside your hopes for a reasonable American president.