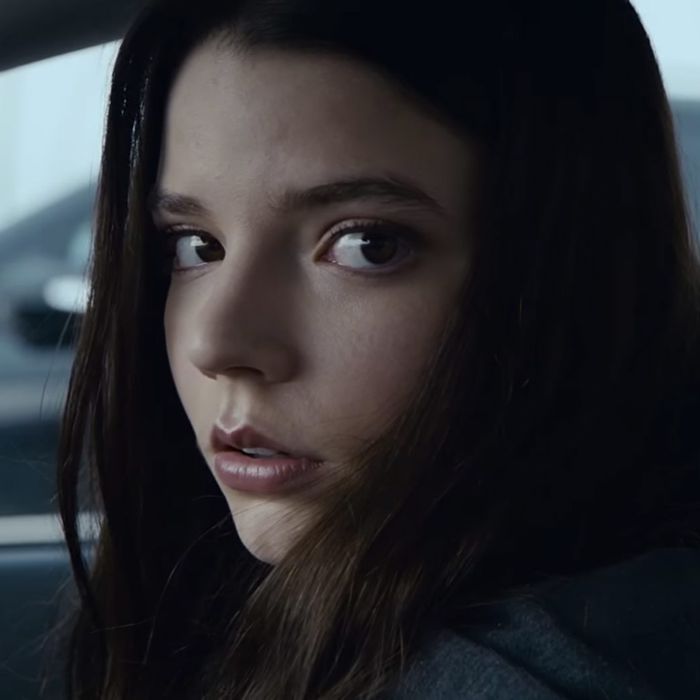 ANya Taylor-Joy in Split.
The Big Story
In its second weekend, M. Night Shyamalan's multiple–James McAvoys horror movie Split managed to top the box office once again, scoring a strong $26 million, only 34 percent down from its $40 million opening. For a horror movie, that's a remarkable hold: Box Office Mojo found four other horror movies that opened around the $40 million number, and they each dropped 63.2, 65.7, 68.3, and 44.2 percent in their second weekends. Our critic may not have liked Split, but audiences really, really do.
For Shyamalan, his decade-long cold-streak is decidedly a thing of the past. Split makes his second hit in a row after the success of The Visit last year; like Split, which cost just $9 million, The Visit was made for next to nothing, and managed to gross $65 million domestically, plus another $33 million worldwide. At $78 million domestically and $102 million worldwide, Split has already eclipsed the full theatrical production of The Visit, and is Shyamalan's highest-earning film since The Last Airbender in 2010. Of course, The Last Airbender cost $150 million, more than 16 times the budget of Split. In terms of cost to benefit, this is Shyamalan's best performance since his heyday, which included The Sixth Sense, Unbreakable, Signs, and The Village — all of which grossed at least $240 million worldwide.
What Else Happened?
Over the last few days, a tired nation has asked itself: What is a dog's purpose? While plenty of people, including PETA, answered, "Not whatever the hell this is," the rest of the country was curious enough to propel A Dog's Purpose to a solid second-place finish of $18 million. With a production budget of $22 million, A Dog's Purpose could be a minor earner for Universal, and should at the very least avoid the disastrous fate that seemed possible after last week's controversy.
Following A Dog's Purpose was the considerably more-admired Hidden Figures, which continues its remarkable run. Hidden Figures added another $14 million to cross the $100 million mark, quadrupling its $25 million budget the weekend after it received Oscar nominations for Best Picture, Best Adapted Screenplay, and Best Supporting Actress. But Hidden Figures wasn't the only Best Picture nominee to boost its total: La La Land earned another $12 million, putting it past $220 million worldwide and $100 million domestically; Manchester by the Sea, Moonlight, Arrival, Fences, and Hacksaw Ridge all added theaters. (Lion stood pat, while Hell or High Water's days at the box office are behind it.)
The news is less rosy for this weekend's other two wide releases. Although Resident Evil: The Final Chapter managed $65 million overseas, it only did $14 million domestically, the worst North American opening in the six-film series. Still, this was always an international play; the last entry earned 82.4 percent of its worldwide total overseas. No such silver lining exists for Gold, the Matthew McConaughey drama that was dumped in January after appearing like a potential awards player for the Weinstein Company at the beginning of the season. (At least it gives The Founder some company, with Lion now carrying the full brunt of the Weinsteins' Oscar efforts.) Gold made just $3.5 million in its first weekend, and while that's a slight improvement on The Founder's $3.4 million opening last week, it needed nearly double the number of theaters to pull it off. At least it's better than Sea of Trees!