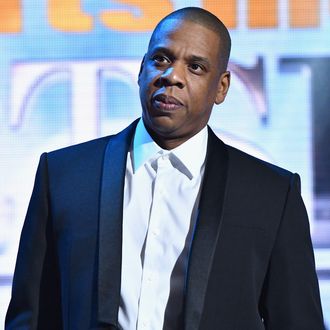 The businessman himself.
Photo: Slaven Vlasic/Getty Images
After nearly two years of undefined partnership, Sprint and Tidal have entered into a more contractual marriage of sorts. Beginning today, the cell phone carrier will own 33 percent of Jay Z's music-streaming service, taking a financial stake in Tidal for the first time. While this isn't the first time Jay Z has made deals with a tech company — the rapper famously released his album Magna Carta Holy Grail free to Samsung customers — it might be his savviest deal yet. Sprint currently boasts 45 million subscribers to Tidal's supposed 3 million. If Sprint were to bundle its service with Tidal's and provide the streaming platform to all its users (essentially giving Tidal pre-bought subscribers), it could surpass Spotify in paid subscribers. Loopholes
Details of the deal haven't been fully revealed as of yet (Tidal's artist-owners will stay owners, but Sprint's CEO is now a Tidal board member), however a press release from Tidal and Sprint states that "Sprint will make TIDAL available to its 45 million post and prepaid customers," presumably without any additional cost to Sprint customers and, possibly, without choice. Tidal will also be offering exclusive content to all its newly acquired Sprint users, so maybe expect a new Jay Z album to pop up on your phone à la U2's Songs of Innocence.