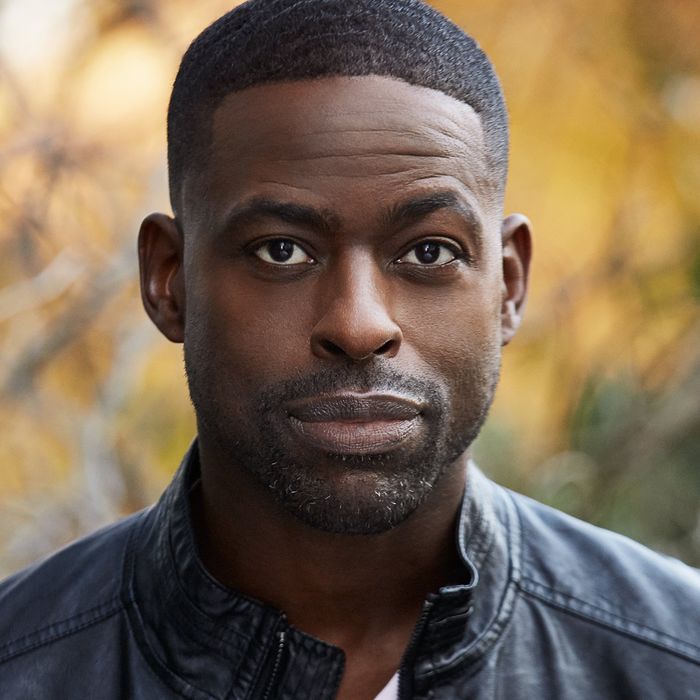 Sterling K. Brown has a naturally playful disposition; he's quick to laugh, or break into song, as he and his TV wife Susan Kelechi Watson do later this November morning, walking from set to set on the Paramount stages belting out a rendition of West Side Story's "Maria." Right now, it's his own character on This Is Us, Randall, who's humoring him.
Standing in Randall's living room on the NBC show's set, Brown is preparing to film the aftermath of his Christmas Eve discovery — that his birth father, William (Ron Cephas Jones), is bisexual. In the mid-season premiere, airing tonight, the adopted son in the Pearson family is struggling to be cool about it. That backfires when he tries to get to know his father's lover, Jessie (Denis O'Hare), who jokes that the two men met on Tinder. When he finally realizes he's not serious, a visibly uncomfortable Randall blurts out, "The sexiest thing about a man is his sense of humor!"
It's moments like this when Brown is most drawn to Randall, whom he compares often to his older brother, Armand ("he's a lovable dork"). "Randall has this awkwardness about him when he's exposed to something new that I enjoy playing," Brown explains. During several takes of the scene, which ends with Randall's wife, Beth, mocking him over the "brutal" exchange, director Timothy Busfield encourages Brown to improvise his last line. In one version, Randall asks Beth not to pick a fight with him; in another, he guilts her into supporting his desire to be accepting of his father. In both takes, Brown imperceptibly grows more charismatic — more like Brown himself. The awkward Randall from moments earlier is transformed into a silly but seductive charmer.
Randall is Brown's second high-profile TV role in a whirlwind year for the 40-year-old actor, who began his career in theater and spent nearly seven years on Lifetime's Army Wives (as the only Army husband on the show). He won an Emmy in September for the role that introduced him to a more mainstream audience: his portrayal of Los Angeles prosecutor Christopher Darden in FX's The People v. O.J. Simpson: American Crime Story, for which he was also nominated for a Golden Globe on Sunday night. During his emotional Emmys speech, Brown thanked the voters who "may not have known who I was but you checked the box anyway."
Fast forward a few months, and it's safe to say that the voters, the entertainment industry, and scores of TV fans know who Brown is. This Is Us, the fall's biggest new hit, has solidified Brown as one of the most subtle actors on television, playing the nerdy, bighearted Randall a few octaves higher than his emotionally restrained, introverted Darden. Expectations were high ahead of the This Is Us premiere last fall, when its record-breaking trailer was released in the spring. The show, which follows the Pearson family through decades of raising children and grandchildren, has been on fire ever since. Brown's character is the adopted son of Jack (Milo Ventimiglia) and Rebecca (Mandy Moore), and brother to twin siblings Kate and Kevin (Chrissy Metz and Justin Hartley). When we first meet Randall on his 36th birthday, he's just found his biological father, William, who is terminally ill.
This Is Us creator Dan Fogelman declined to explain why he chose to make Randall a black child who grew up in a white family. Although Brown has never discussed that aspect of the character with Fogelman, he appreciates that the choice of Randall's race appears to be deliberate. (Brown's wife in real life, Ryan Michelle Bathe, also stars on the show as a friend to the Pearson family who helps guide Jack and Rebecca in raising their black son.)
"They were very intelligent about using the race of the character to explore things in a unique way," Brown says. "Someone who has socioeconomically succeeded, but still has things that he has to deal with as an individual, even in addressing his own identity: Am I black enough? By virtue of being raised by these white folks, have I done enough to support the African-American community at large? I really like that about the show: He doesn't seem accidentally black."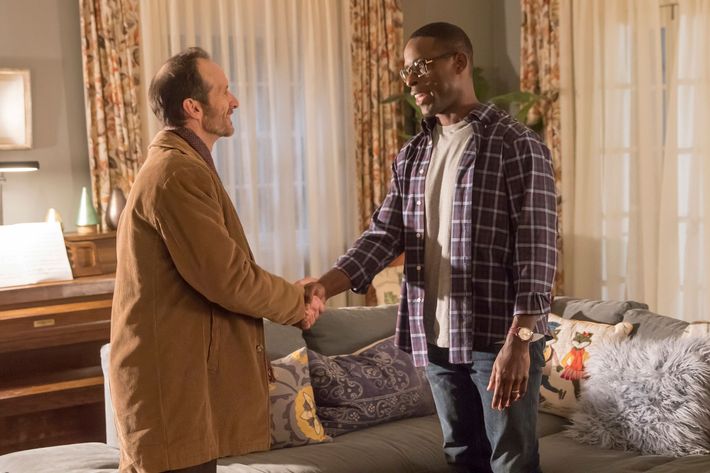 ***
Brown grew up in St. Louis, Missouri, in what he calls "a politically liberal but socially conservative" family. He has an older brother and sister, and two teenage siblings his mother adopted after he left for college. During high school, where he excelled at football, a 14-year-old Brown was cast in Godspell and, for the first time, felt like he was in his element when he received standing ovations three nights in a row. "I did really well in football so I would experience that high and adoration, but to experience it in that intimate environment for something that didn't have to do with physical prowess, it was about affecting people in another way, I was like, this is amazing," he recalls. "It was a high."
While he knew he loved performing and his mother fully supported him, Brown initially pursued an economics degree at Stanford University, thinking it was a more realistic career path. But after a couple of internships at the Federal Reserve Bank, Brown knew he didn't like the work enough to continue. "Any time I was doing a play at school, my grades got better because my soul was being fed," he says. "I thought it was about money. It's not. It's about the soul." Brown graduated with a bachelor of arts in drama at Stanford and went on to earn a master's degree in fine arts from New York University's Tisch School of the Arts.
"I was young enough when I realized it, and I also mean naïve enough, to say, This is what I'm supposed to do," Brown says. "I see my friends and family who have a passion or a dream but it's now a dream deferred because they were never naïve enough or brazen enough to say, Let me do this. The longer you go and the more practical you become and the more responsibilities you accrue, the more it will cost you to make that shift and you see the light slowly extinguish. I'm glad that didn't happen for me."
A few days after filming Randall's uncomfortable scene with Jessie, Brown sits down for lunch at one of his favorite Los Angeles cafes, wearing a T-shirt and athletic shorts, a counterpoint to the always well-dressed Randall. "Network television hasn't been a large part of the discussion on the dramatic side with the exception of The Good Wife and Friday Night Lights," he says of This Is Us's unique critical success, before taking a bite of his steak sandwich and salad lunch. "To be one of the shows in the conversation, that's being recognized by the people and by the critics as well, means a lot. I'm proud of the show, not just because of the show, but the goodness of the show."
Brown read the pilot script when The People v. O.J. Simpson was in production and thought it was one of the best he'd read in 15 years of auditions. "It cracks your heart open and demands you to feel," he says. He related to how the show handles obesity through Chrissy Metz's character, Randall's sister Kate. "I have a big family of big people," he explains. "It was really nice to see that story told with humor, but also with sincerity. I knew when my family saw that character, they'd be like, Okay, I can get down with this."
But it was Randall's story line that he connected to on a more personal level. Brown lost his father when he was 10 years old and he could identify with Randall's feelings of paternal loss and longing. "We're in similar places in that the career is going well for me and for him; he has two beautiful children, I have two beautiful children; gorgeous wife and gorgeous wife. But there's still this sort of hole," he says. "It would be really cool to have my dad here to witness this, to see his grandchildren, to see this woman that I chose to share my life with, to just come walk on set and be like, Ah, this is how you make TV shows and movies. Randall has an opportunity to have that back in his life — he's able to do something I can't do. Stories of fathers and sons, like Star Wars even, have always resonated with me."
Now that he's raising two sons, Andrew, 5, and Amare, 1, he finds himself wondering what his relationship with his boys will be like as they grow past age 10 — uncharted father-son territory for Brown. "I have a certain memory of the way in which my father loved me until I was 10 and it was unconditional and eternal," he remembers. "I get to carry that for the rest of my life, but on a practical level after age 10, it's just me sort of figuring it out. It's a whole new thing — conversations that I never got to have with [my father]."
***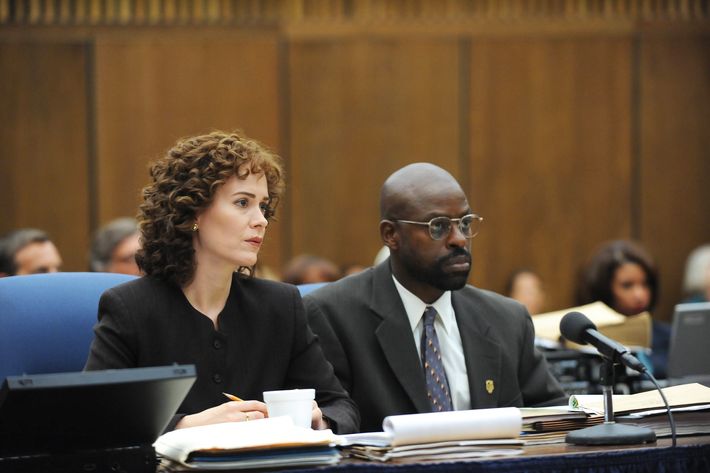 Months before The People v. O.J. Simpson aired, This Is Us directors John Requa and Glenn Ficarra recommended that Fogelman give Brown an audition, based on their experiences working with him on Whiskey Tango Foxtrot. When Brown delivered Randall's heartfelt monologue at his father's doorstep from the pilot episode, Fogleman knew he wanted to hire him.
"I was worried Sterling wasn't a household name, and we really hadn't seen anyone else for the part," Fogelman says. "But as luck would have it, our studio had produced O.J. and the second I got out the 'K' in 'Sterling K. Brown,' they were like, do it."
O.J. producers who had watched early footage of Brown as Darden were so impressed by his work, one of them advised him not to rush into his next role. "Here's a guy who's coming into his own, who's killing a part right in front of you," O.J. executive producer Brad Simpson says. "From early on, we knew he was going to be the breakout from the show. There's something really satisfying about hiring somebody who's been killing it but just hasn't broken through yet, and you give them a platform to really show what they can do."
Brown was flattered by the advice, but thought, "You tell a brother not to get a job, he's like, I got to go get a job." He considers himself "blessed" that This Is Us made his decision easy. "I'll admit when he won the Emmy, it was literally two nights before we premiered," Fogelman recalls. "I remember thinking, Well, this doesn't suck for us either."
The Emmy allowed Brown to exhale. "It's interesting … people now give me the benefit of the doubt," he says. "That's the difference. You still gotta show up and do your job, but it's opened doors and has given me opportunities that I did not have before."
Case in point: This year, he'll hit the big screen in the biggest movie role of his career in Reginald Hudlin's Marshall. The film tells the story of one of Thurgood Marshall's early career-defining cases before he became the first African-American Supreme Court justice. Brown plays Joseph Spell, the chauffeur accused of raping a socialite, whom Marshall (Chadwick Boseman) represents. He'll also have a role in next year's highly anticipated Marvel Black Panther film, and is in talks with executive producer Ryan Murphy about a future season of FX's anthology series American Crime Story, focusing on Hurricane Katrina.
Brown's greatest skill in all his roles, says Fogelman, is that he never allows his characters to be reduced to a stereotype. "He plays multiple things at once, and in doing so he creates fully formed and original characters," he says. "I think that's the main reason he's such a pleasure to watch."
It's also those moments when you see a little of Brown himself come through. He can't help but infuse Randall with his own gregariousness at times, which Fogelman notes, is often "any scene he has with Beth." Even on the set of the more strictly dramatic The People v. O.J., Simpson says he saw a glimmer of Brown in the scene when Darden tries to console Marcia Clark (Paulson) by singing and dancing "Who's That Lady?" in her office.
"Chris Darden is an inward-looking man who really feels like he doesn't fit in and is trying to do his best and is internalizing the process. But when he's singing and dancing for Marcia, that's a lot of Sterling right there," Simpson says. "That's his flirtatious, warm, genuine way. He really lives in his skin and is not embarrassed by who he is. That's where the Sterling I know broke through."