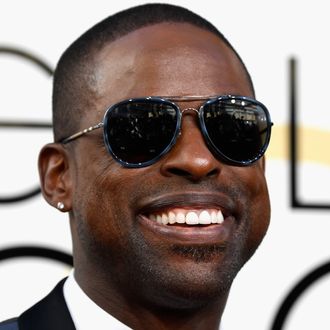 Photo: Frazer Harrison/Getty Images
Earlier today, Deadline reported that Warner Bros. was finally getting serious about a Green Lantern revival by hiring David S. Goyer and Justin Rhodes to co-write the screenplay. Ryan Reynolds, who first played Hal Jordan in the ill-fated 2011 incarnation of the movie, is busy with Deadpool these days, and has also said he will have no further involvement with the character. But there is someone else who's interested in submitting his résumé for what's currently being referred to as Green Lantern Corp. Sterling K. Brown took to Twitter this afternoon and said he would happily join the project as a co-headliner.
The new Lantern is being billed as "Lethal Weapon in space," with the story being built around Lantern ring bearers Jordan and John Stewart. And as Vulture explained earlier, there can be multiple Green Lanterns in the same story without it getting weird: "For those confused by the title and the notion of two Green Lanterns, the basic concept from the comics is that 'Green Lantern' is not a single person, but rather a title bestowed upon members of an intergalactic police force known as the Green Lantern Corps. Hal Jordan was the first DC protagonist to be depicted as a member of the Corps, having been introduced in 1959, and John Stewart was introduced in 1971." Your move now, WB. Brown is a hot Hollywood commodity lately, and a Power Ring would look pretty fine next to his new Emmy award. Yes, he's already party of the Marvel Cinematic Universe as a cast member in Black Panther, but why not get you a man who can do both?