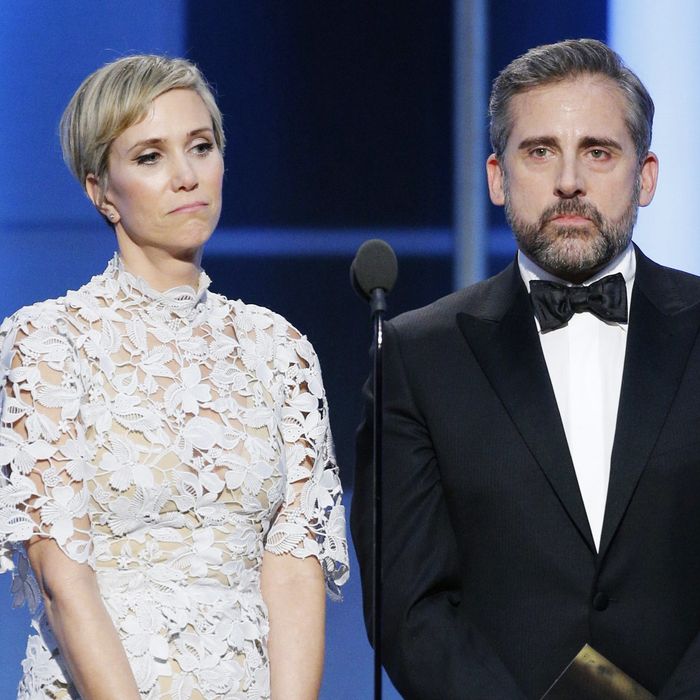 Photo: Handout/Getty Images
For the sake of every future awards show we all will inevitably force ourselves to sit through, can Steve Carell and Kristen Wiig host every single one? The duo, who paired up to present the Golden Globes' award for Best Animated Movie, had the most entertainingly miserable affect. First, they were self-deprecating: "We get our hair cut together," Wiig said, referencing their cropped cuts. "I'll have what she's having," Carell added. "Like the orgasm." Before they listed the nominees, the Despicable Me co-stars offered up their own animated movie memories. Of course, their stories began promisingly, but quickly devolved into bizarre recountings of divorce, disapearances, and death:
That bit was the night's standout moment, and as it turns out, Wiig and Carell both have a history of leading every award show's highlight reel. Now that they have finally presented an award together, we respectfully submit them both to host everything — the Oscars, the Emmys, the Globes, even the Tonys. We've rounded up some of their best awards-show moments:
When Wiig and Bill Hader presented the 2015 Golden Globe nominees for Best Screenplay, they hilariously misremembered a handful of iconic movie quotes: "Of course there's The Godfather … who can forget that famous scene when Robert De Niro is really angry and he's like, 'Hey, uh, who's in my driveway! I gotta get into the city over here!'"
At the 2013 Golden Globes, Wiig did a riff of her Garth and Katt SNL gag, where she and co-presenter Will Ferrell faked their way through the plots of each nominee's movie. It's a very shows-up-for-seminar-but-didn't-do-the-reading vibe as Wiig suggests Jennifer Lawrence's character in Silver Linings Playbook is a silver collector with a stolen cookbook.
Martin Scorsese didn't have a film nominated at the 2012 Screen Actors Guild Awards (though he was an executive producer on Boardwalk Empire, which was nominated for several awards), but Wiig and her Bridesmaids co-stars introduced the night's best drinking game: how many times nominees and winners shout out the Silence director by name. "Do you think Scorsese saw our movie," Wiig asked, taking a sip of an IPA onstage.
"Don't turn the channel — we're still stars," Carell reminded when he teamed up with Tina Fey to present the screenwriting award at the 68th Golden Globe Awards in 2011. The writer-actors introduced the night's nominees, all movies they said they could've written if they only had the time.
Back in 2010, when 'that's what she said' jokes were still trademarked by Michael Scott, Carell got the audience in on his signature joke. "This is much bigger than I thought it would be," he said, holding the People's Choice Award for TV actor. That's what … well, you get it.
The awards without celebrity winners require the funniest comedians, so Carell — wearing fake eyelashes, Instagram eyebrows, and white powder — teamed up with Will Ferrell to introduce the 2006 Oscar for best makeup.