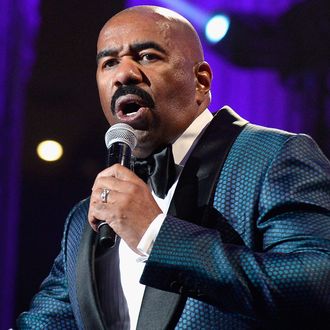 Steve Harvey.
Photo: Bryan Steffy/Getty Images for Nu-Opp, Inc
Apparently if you ever need to get Steve Harvey laughing, you simply need to mention Asian men. Friday on the Steve Harvey Show, the host kicked things off with a segment mocking various self-help books, including one from 2002 titled How to Date a White Woman: A Practical Guide for Asian Men. (Yes, it's real.) Rather than make fun of the dated book itself though, Harvey mocked the very idea that a white woman could find Asian men attractive. "That's one page, too!" Harvey says. "Excuse me, do you like Asian men? No. Thank you." Then he goes on to joke that black women wouldn't be attracted to Asian men, either. "How to Date a Black Woman: A Practical Guide to Asian Men," he says. "Same thing. You like Asian men? I don't even like Chinese food. It don't stay with you no time … I don't eat what I can't pronounce."
There's a quick shot of the audience laughing along with Harvey that notably includes a Filipina woman, which feels like the show attempting to give Harvey cover for his jokes. Harvey's antics are just another recent example of distasteful punch lines being made about Asian people, including Chris Rock and Sacha Baron Cohen's jokes at the Oscars last year, Bianca del Rio's recent stand-up special, and the ever-present 2 Broke Girls. As for Steve Harvey, the greater offense may be his joke construction. We've reached out to Harvey for comment, and will update this post if we hear back.