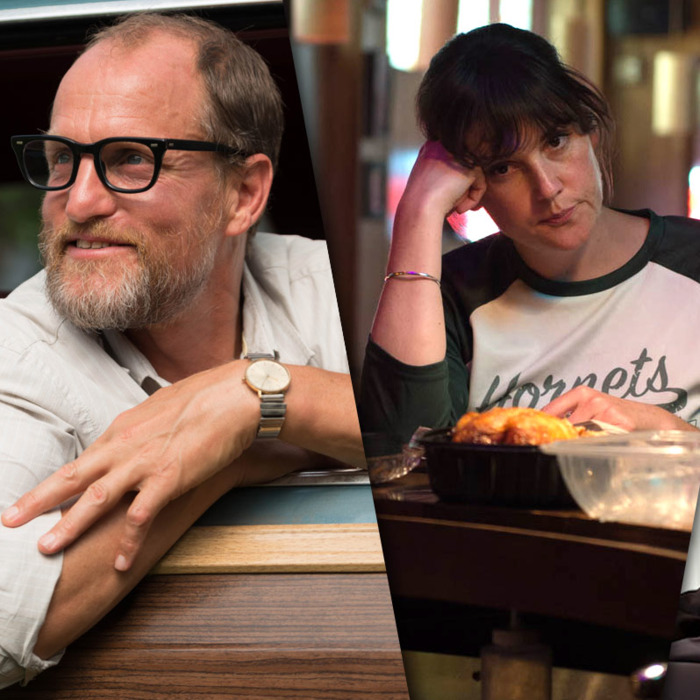 Wilson, I Don't Feel at Home in This World Anymore, and Marjorie Prime.
Photo: Sundance Film Festival
If it seems like we've been talking about the same year-end Oscar-season movies for months on end, then the Sundance Film Festival can't come soon enough: You can count on Robert Redford's annual film festival in snowy Park City to launch brand-new careers and introduce us to stories, actors, and filmmakers that will help define the next year in movies. The festival starts Thursday and Vulture will be there bringing you all the latest buzz, but in the meantime, there are already tons of titles that have everybody talking. Here are just 23 of the movies that are among Sundance's most anticipated, featuring young Han Solo, robot Jon Hamm, and a secret look at Donald Trump.
The Big Sick
The first big comedy of the fest comes bearing a seal of approval from producer Judd Apatow, but we're most excited to see Silicon Valley's Kumail Nanjiani as a leading man. He wrote the script about his real-life cross-cultural courtship with wife Emily V. Gordon (played in the movie by Zoe Kazan), which involved him trying to appease his Pakistani parents by dating a bunch of potential brides for an arranged marriage.
Marjorie Prime
Based on a Pulitzer-finalist play, this futuristic domestic comedy stars Lois Smith (reprising her much-lauded stage role) as 86-year-old Marjorie, who lives with her two grown children and a computerized version of her dead husband (Hamm) whose purpose is to help Marjorie reconstruct a past she can barely remember. Robot Jon Hamm! Where do we get one of those?
The Yellow Birds
War movies rarely debut at Sundance, so we were immediately intrigued by this intense-looking drama about two young men who ship off to Iraq, where one of them disappears. It's also based on an acclaimed novel by an Iraq vet, and stars two of the most exciting young actors around: Mud's Tye Sheridan, all grown up, and Alden Ehrenreich the man who will be Han Solo, not to mention Jack Huston as their sergeant and Jennifer Aniston as an aggrieved mother. Get your hyperbolic tweets ready now.
Band Aid
What if instead of arguing, you and your romantic partner could break out electric guitars and work out your issues via song instead? For her directorial debut, actress Zoe Lister-Jones (CBS's Life in Pieces) wrote, produced, and stars opposite Adam Pally in this cute-looking comedy about a married couple going full Rumors-era Fleetwood Mac in their garage, with Fred Armisen on drums.
An Inconvenient Sequel
On the eve on Donald Trump's inauguration, nothing could be a more perfect opening-night documentary than the tenth-anniversary follow-up to the Oscar-winning An Inconvenient Truth. This sequel, directed by Bonni Cohen and Jon Shenk, follows vice president Al Gore around the world as he continues his fight for international climate policy change, and even though it can't account for global-warming-denier Scott Pruitt as head of the EPA or Rex Tillerson as secretary of State, we do hear it makes a surprising case for hope.
Call Me by Your Name
After I Am Love and A Bigger Splash, we'd follow director Luca Guadagnino's picturesque stories about love, lust, and lounging just about anywhere. For his next entry, he's filmed André Aciman's acclaimed novel about a steamy European affair between a teenage boy (Timothée Chalamet) and his father's lodger (Armie Hammer). Sony Pictures Classics picked this one up ahead of time for an estimated $6 million, further piquing our interest.

Mudbound
Moonlight's magic moment should encourage you to check out Pariah, the 2011 directorial debut from Dee Rees — who also helmed HBO's Bessie — that tills similar coming-out territory (and helped launch the career of Arrival cinematographer Bradford Young). Mudbound is her second big-screen feature and has a great cast including Carey Mulligan, Jason Mitchell, and Mary J. Blige in this story of families feuding in the post–World War II South.
Ingrid Goes West
If you've ever gotten too wrapped up in an Instagrammer whose life is perfectly presented, you'll be intrigued by this entry starring Aubrey Plaza and Elisabeth Olsen about a woman who tracks down her social-media obsession to see what she's like IRL. #ad #spon #nofilter #firstinline
Nobody Speak: Hulk Hogan, Gawker, and Trials for a Free Press
At a time when every institution seems under attack, here comes a prescient documentary about the lawsuit waged by Hulk Hogan (backed by Trump's tech pal Peter Thiel) that bankrupted Gawker and its founder Nick Denton for posting a sex tape starring the former pro wrestler. Expect not only a riveting courtroom thriller and tons of access to key players, but also a terrifying look at how billionaires and corporate interests are now determining our access to the truth.
I Don't Feel at Home in This World Anymore
The writing and directing debut of Macon Blair, best known for his buzzy turn in Jeremy Saulnier's Blue Ruin, this film pairs Melanie Lynskey (who can do no wrong) with Elijah Wood, who has fashioned quite the interesting career for himself since the days of Frodo. It's an intriguing premise, too: A woman's purpose is restored by her pursuit of the criminals who broke into her home, until (surprise!) she gets a little more than she bargained for.
Golden Exits
Alex Ross Perry's heady investigation into artistic Brooklyn ennui continues, this time with Adam Horovitz (otherwise known as Ad-Rock), Emily Browning, Mary Louise-Parker, and Chloë Sevigny joining Perry's Listen Up Philip star Jason Schwartzman to tell the story of a young Australian woman who upsets the lives of a pair of Brooklyn families. This is Perry's third film in four years, following Philip and the intoxicatingly aggressive Queen of Earth; if he continues in the same direction, expect this to be a very vicious film indeed.
Landline
The team behind the remarkable and funny Obvious Child — including star Jenny Slate, director Gillian Robespierre, and co-writer Elisabeth Holm — has come together once more for this comedy about a 1990s family in a lather over unexpected infidelities. All eyes are on this film to be one of the festival's biggest hits.
To the Bone
Marti Noxon, a TV scribe with a most impressive resume including Buffy the Vampire Slayer, Mad Men, and UnREAL, directs this very personal dramedy about a 20-year-old woman (Lily Collins) struggling with her anorexia with the help of a very unconventional support group. Can she pull off the difficult feat of making this tough condition palatable?
Come Swim
Kristen Stewart goes behind the camera for the first time to direct this short film about a man "underwater with heartache," and it's anyone's guess what she's got in store for us. One perk: The score was composed by St. Vincent, otherwise known as Annie Clark … and Clark has another effort at the festival, directing one of the segments of the all-female horror anthology XX.
Lemon
If you've ever wanted to see Brett Gelman get abandoned by his blind girlfriend, this is the movie for you. Gelman co-wrote with director Janicza Bravo, and the two aren't just artistic collaborators: They're married, promising an added layer of relish to whatever indignities Gelman goes through onscreen. With Judy Greer, Michael Cera, Nia Long, Shiri Appleby, and Fred Melamed among the supporting players, this one's worth the price of admission for the cast alone.
Wind River
Wind River is the directorial debut of Taylor Sheridan, who became one of the industry's hottest screenwriters after the success of Sicario and Hell or High Water. For his auteur turn, Sheridan conscripted Jeremy Renner and Elizabeth Olsen to play two government agents — one Fish and Wildlife, the other FBI — tracking a killer through an Indian reservation in Wyoming.
Crown Heights
Following his acclaimed part in Atlanta (and truly spectacular Golden Globes appearance), Lakeith Stanfield takes on what might be the most demanding role of his career to date as Colin Warner, a real-life man imprisoned for a murder he didn't commit. Former NFL cornerback Nnamdi Asomugha plays his friend Carl King, who stages a decades-long campaign to free Warner that provides the narrative spine of Matt Ruskin's second feature.
A Ghost Story
With Casey Affleck on the verge of his first Best Actor nomination, David Lowery's A Ghost Story — which follows his very different 2016 release, Pete's Dragon — merits an added level of interest. The film, which tells the story of a ghost watching his former lover (played by Rooney Mara in a reunion of the principals from 2013's Ain't Them Bodies Saints), sounds intriguing for its eccentricity alone. Lowery, who is also serving on the festival's jury, should firmly put his stamp on this year's Sundance.
Trumped: Inside the Greatest Political Upset of All Time
In many ways, Sundance will be dwarfed by an event happening across the country: the inauguration of new commander-in-chief Donald Trump, a phrase that still doesn't exactly roll off the tongue. The festival did manage, however, to add a documentary chronicling the rise of Trump, with Game Change vets Mark Halperin and John Heilemann, plus Mark McKinnon, providing an inside look at our soon-to-be president's controversial path to the White House.
Beatriz at Dinner
For some of us, the prospect of a film reuniting two of the executive producers of Enlightened, Miguel Arteta and Mike White, is plenty alluring on its own, especially when the story seems right in the same wheelhouse as the departed HBO show: A holistic medical practitioner divides a dinner of businessmen. But even if you've never had the pleasure of enjoying that series, a cast that includes Selma Hayek, John Lithgow, Chloë Sevigny, Connie Britton, and two-thirds of the Pfefferman children (Amy Landecker and Jay Duplass) should be enough to satisfy your wandering soul.
Wilson
Based on the graphic novel by Daniel Clowes (who scripted), Wilson gives us a Woody Harrelson that's as neurotic and unhinged as we've seen him onscreen, and that's saying something. Following Wilson as he tries to reunite with his estranged wife (Laura Dern) and a daughter he just discovered, the film also marks director Craig Johnson's follow-up to The Skeleton Twins, which made a splash at Sundance in 2014.
The Polka King
Jack Black, Jenny Slate, and Jason Schwartzman are a potent trio even sans polka, but when you apply their comedic talents to the strange-but-true story of the King of Pennsylvania Polka, Jan Lewan, you have an eye-catching elevator pitch at the very least. Black had good luck in similar waters with Richard Linklater's Bernie, and hopefully Maya Forbes's second feature can channel the same pathos the actor tends to bring to his best performances.
The Discovery
In Charlie McDowell's follow-up to the genre-blending The One I Love, the existence of the afterlife has been scientifically confirmed, which everyone's taking about as calmly as you'd think. Jason Segel and Rooney Mara cross paths as they process the news, setting the stage for a love story with some serious sci-fi inflections. Plus, Robert Redford plays the guy who discovered the afterlife. Guess what: It's Sundance!