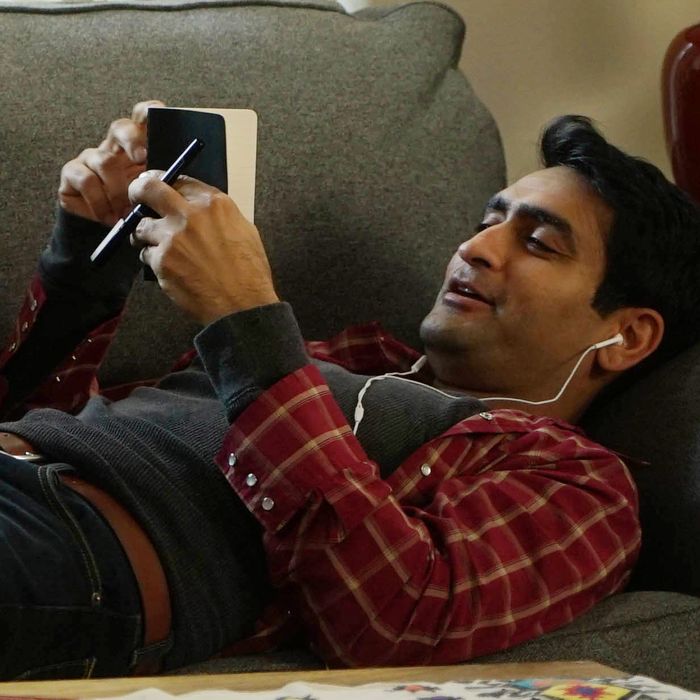 The Big Sick.
Photo: Nicole Rivelli/Sundance Film Festival
Bet you've seen a formulaic rom-com before. Or possibly many: Two people meet cute amid awkward circumstances, and after a series of obstacles, live happily ever after. But it's been a long time since we've seen one like The Big Sick, the deceptively simple comedy that just played to a rapturous reception at Sundance. Infused with honesty and authenticity, Michael Showalter's crowd-pleaser is an instantly winning heart-stealer and a superbly well-timed story of culture clash that resolves into a lovely tale of mutual understanding and acceptance.  

That the story ends on a happy note is not a quite spoiler, as it's based on the real-life relationship of the film's married co-writers Kumail Nanjiani and Emily V. Gordon. Nanjiani plays a version of himself — a straight-faced joker who leads a double life as a stand-up comedian and Uber driver. At a gig one night, he meets the vivacious, equally deadpan Emily (Zoe Kazan). Though they're both commitment-phobes  at first, the couple soon launches into an envy-inducing relationship.
It's not all roses though. A Pakistani immigrant with a traditionalist family, Kumail keeps Emily a secret from his parents, enduring frequent fix-ups arranged by his mother. The secrecy takes a toll, and they break up. Then the film's title comes into play: Emily turns out to have a mysterious lung disease and is put into a medically induced coma. Enter her parents: Beth (Holly Hunter, wonderful as the no-nonsense mother) and Terry (Ray Romano, amiable and soft-spoken), both well aware of how Kumail had broken their daughter's heart. But while Emily is sleeping, he slowly manages to bond with both Beth and Terry, who are dealing with their share of relationship battles, including binge eating and drinking.
Judd Apatow is one of the producers of The Big Sick, and the parallels to his universe are obvious: Relationships get dissected with laughs and a dose of darkness. Nanjiani and Gordon's script takes its time — sometimes too much time — fleshing out each side character with considerable care. Nanjiani's relationship with his fellow comedians (Aidy Bryant and Kurt Braunohler) brings to mind the group dynamics of Mike Birbiglia's Don't Think Twice, whereas his conflicts with his Pakistani family play like a less zany version of My Big Fat Greek Wedding. And even the Pakistani bridal prospects are granted their own inner lives; they're not just throwaway inconveniences standing between Kumail and Emily. But when The Big Sick is at its best, it captures with rare humor the weight of being Muslim in America. Throughout the film, Nanjiani and Gordon bravely gamble with jokes about 9/11 and terrorism, and the punch lines land with a thought-provoking wallop. This movie has empathy on its mind as much as comedy, and it's simply a joy to see it excel at both.