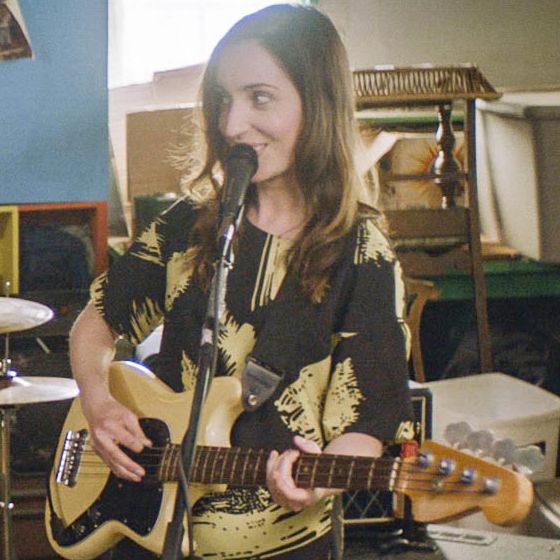 L-R: Adam Pally, Fred Armisen, and Zoe Lister-Jones in Band Aid.
Photo: Sundance Film Festival
At the end of the Q&A following Sundance's second screening of Band Aid, Adam Pally made a very good point about his co-star Zoe Lister-Jones, who also wrote, produced, and directed the remarkably deft film, which tells the story of a couple who channel their constant fights into delightful pop-punk.
An audience member asked Lister-Jones whether she'd like to continue directing, now that she had her first directorial effort in the can, after writing, producing, and starring in others. "I would love to keep directing, and I'm writing a new project now, so stay tuned," Lister-Jones answered. But after she fielded the question, Pally came in with an addendum.
"Not to go back to the female thing, but I think there is an inequity for directors who come out of Sundance and move to the studio system. A studio would look at a film like this from a male director and say, 'Yeah, give him a shot, let him do Jurassic Park.'" (An implicit reference to Colin Trevorrow, who went from 2012 Sundance entry Safety Not Guaranteed to Jurassic World.) "And that would never happen for a woman, I know that for a fact. Even the women studio heads will look at this film and say, 'She should star in the Nancy Meyers movie.' And, while she should, she should also direct Jurassic Park."
Pally's comment was met with both laughter and applause, but the point he makes is serious. With Band Aid, Lister-Jones displays great directorial control, building relatable, nuanced characters, with a hook — the band — that separates the movie from usual Sundance relationship fare. The characters suffer in a way that feels not only earned, but also specific; the trials they face, universal as they are, still belong uniquely to them. It may be easy to see where the story is going, but the way it gets there feels just right, and the Cassavetes-style blowout at the climax — which Lister-Jones chose to shoot in a bravura seven-minute-long single take, a decision for which I suspect she would receive far more praise if she were a male filmmaker — isn't just good writing and character development: It's the work of a director who understands how to use her camera as an emotional instrument, not just an observational one.
All of which is to say: Sure, there aren't any dinosaurs in Band Aid, or spaceships or superheroes or nine-figure budgets. But Safety Not Guaranteed didn't have much of that, either. Nor did The Kings of Summer, the 2013 Sundance film that helped Jordan Vogt-Roberts land Kong: Skull Island; or Dope, the 2015 Sundance film that (briefly) got Rick Famuyiwa The Flash; or the countless non-Sundance directors in similar situations, like Marc Webb or Rupert Sanders. It's not that these dudes don't deserve their budgetary leaps; it's just that Lister-Jones, as well as the other women who've popped at Sundance before her, should have the same chance (if they want it).
And Lister-Jones clearly is aware of this problem, as shown by her decision to employ an all-female crew on Band Aid, which she explained at the Q&A, as "something [she] wanted to do from the get-go."
"I've always looked at the world through a lens with a sharp focus on gender inequity," Lister-Jones explained. "And as an actress and also a writer and producer, I've been really aware of the underrepresentation of women on film and TV crews. And I know that when women are directors, the number of women hired on film and TV crews increase, but I also just think that doesn't necessarily shift the paradigm enough. I wanted to subvert it entirely and create a space where women could feel their most confident as artists and every voice could be heard, as well as to create opportunities for women in departments where they often aren't given them, like lighting and camera and grip and electric."
Certainly, we shouldn't look past Band Aid, which still has its own life to live for audiences beyond the festivalgoing circuit. (As of Thursday, no one's bought it yet. Someone buy Band Aid!) But Lister-Jones has proven herself a skilled and insightful filmmaker, and there's no question that the studio system would benefit from her involvement, whether it's as the star of the next Nancy Meyers movie, the director of Jurassic World 3, or, even better, as an empowered writer-director with the kind of budget and power that only the more muscular distributors can afford. At the very least, though, she's found a winning approach already, one that she sounds happy enough to try again.
"This crew was so inspiring, and it was certainly the most creatively gratifying experience of my life," she said. "When we wrapped production, everyone was like, 'All right, same time next year?' And we were all like, 'Yeah, let's do it!'"