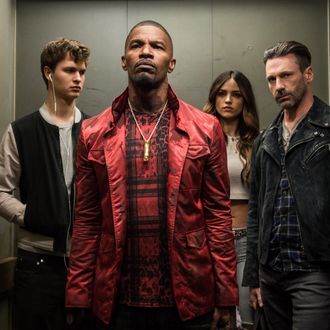 Today, SXSW revealed the full film festival lineup, and this year's selection of 125 features is full of heavy-hitters. The annual fest opens with the work of a local filmmaker whose name reaches far beyond Austin, with Terrence Malick's Song to Song. It stars Rooney Mara, Ryan Gosling, Michael Fassbender, and Natalie Portman in a feature about Austin's music scene. Other noteworthy entries include the new action-comedy Baby Driver from Edgar Wright (director* of Hot Fuzz) that stars Ansel Elgort, Kevin Spacey, Lily James, Jon Bernthal, Eiza González, Jon Hamm, and Jamie Foxx; and Ben Wheatley's Free Fire, which brings Brie Larson and Armie Hammer together.
Other screenings that will likely garner attention include a documentary from Frank Oz about five of the original people who controlled Kermit the Frog's felt-friends in Muppet Guys Talking: Secrets Behind the Show the Whole World Watched. Judd Apatow took on co-directing duties with Michael Bonfiglio for May it Last: A Portrait of the Avett Brothers, while Noël Wells (Master of None, Saturday Night Live) will premiere her feature-length directorial debut, Mr. Roosevelt. The episodic section, which is open to television and web series, offers the world premiere of American Gods, based on Neil Gaiman's novel of the same name, and Dear White People, a series that explores the same themes as the 2014 film regarding myths around a "post-racial" America. Find the full lineup here.
*Update: A previous version of this post incorrectly credited Edgar Wright as the director of Ant-Man. We regret the error.