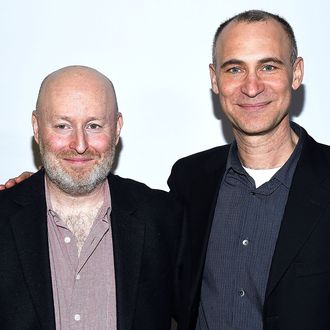 Photo: Matt Winkelmeyer/Getty Images
When FX's The Americans premiered in 2013, its story about Soviet spies living covertly in the United States was intended to be a revealing period piece. But now, with production underway on the penultimate season as U.S. intelligence officials reveal evidence of actual Russian hacking, the show's executive producers say their Cold War–era story suddenly feels like a contemporary tale.
"There's something, in a twisted way, that's kind of fun about seeing all this stuff in the headlines that we're trafficking in all the time," series creator and co-showrunner Joe Weisberg said at a panel at the Television Critics Association press tour in Pasadena on Thursday.  "On the other hand, as you all recall, when we sat here many years ago, the initial idea of the show was really to say, Hey, look, these people who we think of as enemies are really just like us. And that was at a more peaceful time in U.S.-Russia relations. To see things spiral so out of control, frankly, just doesn't feel so good."
Nevertheless, Weisberg added after the panel, the new season won't deliberately draw parallels to the present day — nor will it mention President-elect Donald Trump. "We try to stay in a bubble because we don't want anybody to feel that the people doing this show were watching current events," he said. "You can't do that with a period show. If it were a current show, then you can [put] them all in, but you can't do that with a period show. But the show being what the show is about, it's in automatically. As we were saying, all the operations they were running — I'm sorry, all the operations they are being accused of running — are operations we've been running in our show."
The new season will spend more time in the Soviet Union than ever before, Weisberg noted during the panel. In the first episode, which premieres on March 7, Oleg (Costa Ronin) returns to his homeland to work as a domestic KGB agent. Although he has a privileged status, thanks to his father's role in the Soviet government, the episode depicts strained day-to-day conditions for regular citizens.
"For four seasons of the show, we were really focused on these characters here in America and also taking this very counterintuitive look at the Soviet Union through eyes of what we are showing here," Weisberg said. "Suddenly, we have an opportunity in our story, in our plot, to actually go into the Soviet Union and see things there and what life was like there and show that side of the story."
"Oleg is going back as a Soviet citizen — a rather privileged Soviet citizen — but through him and his contacts, it opens up a lot of opportunities to tell stories of Soviet life," co-showrunner Joel Fields added.