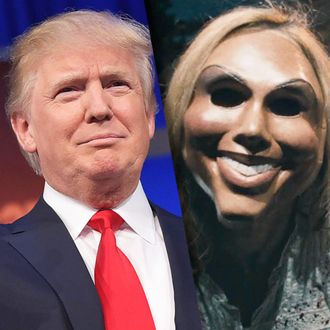 Well, this is unsettling.
Photo: Getty Images, Universal Pictures
In a recent interview with the Washington Post, Trump announced his slogan for the 2020 election. "Are you ready?" Trump asked. "'Keep America Great,' exclamation point. Get me my lawyer!" he shouted. There's only one problem: The Purge: Election Year used it first. The slogan was featured on a poster for the horror franchise's latest 2016 installment, about a government-sanctioned crime spree that happens once a year as a way to help reduce yearly crime. EW had interviewed writer-director James DeMonaco last year, before the film came out, asking him about some of the movie's parallels to the real-life election. "Maybe, subconsciously, I knew who was in the playing field," DeMonaco said. "Little things drip into you when you're writing or you're on set — you're grabbing from the ether or what's out there in the press."
Though Trump's 2016 campaign slogan, "Make America Great Again," was trademarked in 2012, he actually used the phrase much earlier, according to CNN. In December of 2011, Trump said in a statement he was not ready to rule out running as an independent candidate. "I must leave all of my options open because, above all else, we must make America great again," he said.
Now, referring to his 2020 slogan for reelection, Trump said, "I never thought I'd be giving [you] my expression for four years [from now]." He probably also never thought it would be from a preexisting horror film in which riots break out over D.C. and a new political party uses the Purge to help their economic agenda. Or did he? Let's hope it's just a terrifying coincidence.