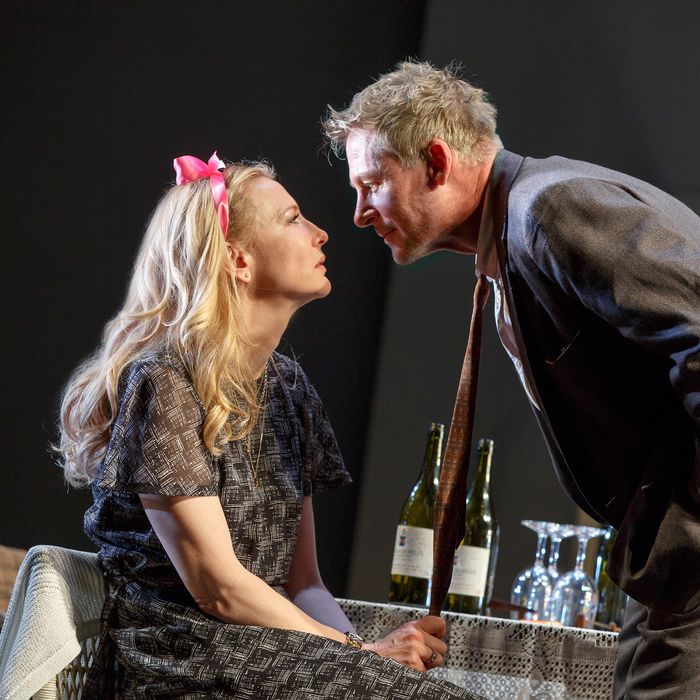 Cate Blanchett and Richard Roxburgh in Chekhov's The Present.
Photo: Joan Marcus
If there were a Tony award for best supporting undergarment, it would surely go this season to Cate Blanchett's bra, which gets the biggest laugh of the evening in Andrew Upton's sour-funny The Present. This may come as a surprise to those who know that the play, opening tonight at the Barrymore, is based on an unfinished early work by Anton Chekhov. Corsets would seem to be the thing for a story originally set among the feckless, fading gentry of pre-revolutionary Russia; maintaining the right silhouette while going morally and literally bankrupt is a hallmark of the glamorous heroines of The Seagull, Uncle Vanya, and The Cherry Orchard. But Upton, who is Blanchett's husband, has relocated the tale to the mid-1990s, as the dregs of the former Communist elite scramble for position in the post-Glasnost era, at the dawn of the kleptocracy. For them, and especially for Anna, whom Blanchett plays quite brilliantly as a wasp trapped in a bottle, boredom and dread are full-time careers.
And so at a party celebrating her 40th birthday, while listening to the desultory speeches and inane reminiscing of her dozen guests, Anna distractedly reaches into her dress and dislodges that bra, dumping it on the floor beside her. If only she could get out of her skin as quickly! Alas, she is fated to spend her life itching with anxiety about how she will survive. The young widow of a Soviet general, she has been left with a large estate but no means of maintaining it; her long game is to marry one of two stuffy older men, both at the party, who have the cash to buy up the leases on the property's valuable mines. Her short game, while waiting for that plan to hatch, is to do anything, from meddling disastrously in her friends' affairs to leveling the party pavilion with dynamite, to gin up some kind of excitement in her life.
This, minus the dynamite, is more or less in the original. But there's a reason Chekhov put aside the ungainly play in his early 20s and never came back to it. (As written, it would run to seven hours; this adaptation runs to three.) One of the problems Chekhov does not seem to have been able to resolve, nor can Upton, is who the play is really about. Scholars called the untitled manuscript Platonov after a schoolteacher character who is Anna's old friend and, presumably, former beau; yet as central as he is in the story, heedlessly seducing four women he has no intention of (or capacity for) loving, he is the kind of figure Chekhov eventually ennobled with better philosophy and demoted to second banana. (See, for instance, Astrov in Uncle Vanya.) Lacking real stature, this would-be Byron — a man remarkable only for his magnetic self-loathing — leaves a hole at the center of the story however it is adapted. (Michael Frayn's version, called Wild Honey, starred Ian McKellen as a similarly overstretched Platonov in 1984.) And so, despite Richard Roxburgh's completely convincing and even swashbuckling take on the role in The Present, all eyes naturally swerve to the lady undoing her underwear. 
They might have done that anyway; Blanchett has the movie-star charisma that makes you want to know at all times what she's thinking, and the stage transparency that provides the information at a glance. She also looks great in Alice Babidge's costumes, something that cannot be said for the other characters, who are pinned to that ugly time by their spot-on period outfits. Platonov's dumpy wife gets a hideous flouncy frock; Anna's loser stepson, Sergei, nearly her own age, wears faded high-waisted jeans with a belt. (The pathos of those characters is beautifully sketched by Susan Prior and Chris Ryan.) Still, this is not one of those revamps in which informal clothing of a period in living memory (or a punkish soundtrack like the one used here) nullifies the atmosphere of social restriction from which the drama arises. Upton makes a fairly successful case that the moneyed thugs and proto-Putins among whom the Annas and Platonovs must shift are a sufficient countervailing force to their inchoate desire for freedom. In what will no doubt become a hallmark of Chekhov production for the next few years, we even get a taste of Trumpism, as when Osip, one of the rich men's henchman, blames his unsavory behavior on those who do not stop him:
OSIP: Is it my fault people are gutless these days? Stupid, and deliberately, deliberately stupid. 
PLATONOV: We are standing and staring at our bloody hands in the mirror and somehow, by some trick of the mind … we displace the guilt. I just didn't think our generation would sink so low. 
But if the politics of this Platonov revamp are apt enough, the drama still founders on the play's inability to link them convincingly to the nearly farcical social comedy of individuals at loose ends. Partly this is because the production, directed somewhat bumpily by John Crowley, keeps the politics at bay for too long while it focuses on the radiating damage an empty man can cause at great removes, like a storm surge. We do not really understand the stakes until it's too late, which may be accurate for the characters but undermines the audience. Chekhov's famous dramaturgical dictum — "one must never place a loaded rifle on the stage if it isn't going to go off" — is meticulously observed here; the General's old pistol is all but spotlit throughout. But however much damage it finally causes, it isn't enough to turn The Present, which operates best as a comedy, into the tragedy it seems to wish it were. It would take Chekhov another 20 years to figure out how to make the two things into one.  
The Present is at the Ethel Barrymore Theatre through March 19.