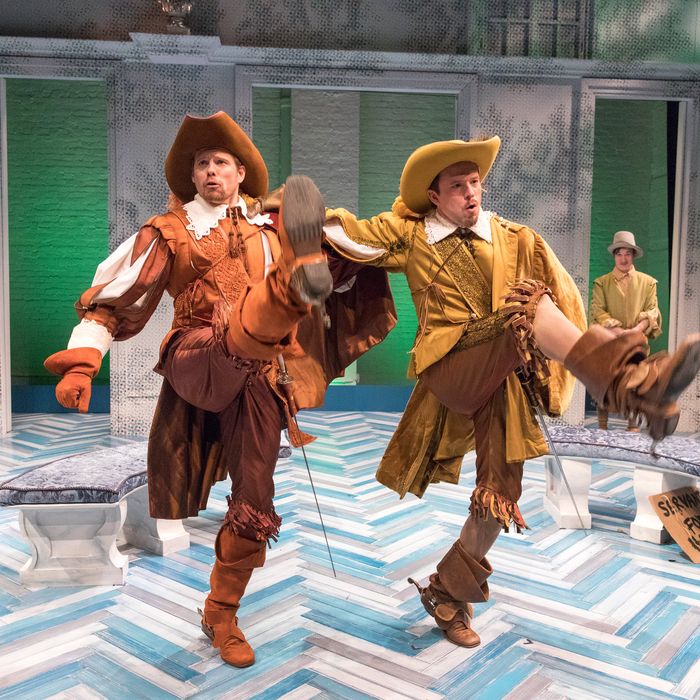 From The Liar, newly rewritten by David Ives, at Classic Stage Company.
Photo: Richard Termine
The production of The Liar opening tonight at Classic Stage Company is billed as a play "by David Ives." So what if Pierre Corneille wrote it first? That was in 1644, and in French, and anyway, Corneille lifted his version, called Le Menteur, from an even earlier Spanish work. Turnabout is fair play, especially when it's an improvement. Ives calls what he has done to the Corneille a "translaptation" — part translation, part adaptation — but it's really in most ways a new and better thing entirely: a sparkling if sometimes overbright comedy in place of a labored one.
Not that the skeleton of the plot is much different from Corneille's; it's so rudimentary, it hardly could be. The titular liar, Doronte, tells astonishing whoppers in order to gain the hand of Clarice, a beautiful young woman he meets in the Tuileries. Or is it Lucrece, her shy friend, he's fallen for? While he and his manservant, Cliton, try to sort that out, complications ensue in the form of Clarice's secret fiancé, Alcippe, a dimwitted hothead who is, wouldn't you know it, Doronte's old friend. Also working at cross-purposes is Doronte's father, Geronte, who is trying to arrange an advantageous marriage for his son — to Clarice. Or is it to Lucrece? Many saucy letters, a midnight meeting in the garden, and two ladies' maids get thrown into the conventional classical comedy mix before the plot is resolved, overhastily in the original, with an amatory switcheroo. 
If that seems too silly a story to interest a tragedian like Corneille (his most famous work is Le Cid) it's right up Ives's allée. His acclaimed early plays were mostly ingenious one-acts whose comedy arose not so much from jokes as from premises. (In Words, Words, Words, three chimps actually set out to write Hamlet.) He's also created the concert adaptations for 33 Encores! presentations, a job that must have offered a master class in structure and its failures. Venus in Fur, his 2010 riff on the racy Sacher-Masoch novel, took meta-theatricality as both its method and its subject: A mousy actress, auditioning for the role of a dominatrix, so dominates the director that she gets the part. 
This résumé would be enough to qualify Ives for the job of remaking Le Menteur for the 21st century, which is no doubt why the Shakespeare Theater Company in Washington, D.C., commissioned him to write the adaptation. His dramatic reshaping of the material is respectful but thorough and thoroughly uncowed, fixing what modern audiences would experience as mistakes in the original. Because we like our comedies tighter, without wasted characters and centrifugal chaos, he has, for instance, made the two ladies' maids into contrasting twins played by one actor, given Cliton a parallel defect to his master's mythomania, and tied the loose ends and stray themes into a very tight knot. The strength of this new structure makes the play almost foolproof, a theory well tested by its many productions around the country since the Washington debut in 2010.
But of course the original was more than just a plot; it was a comedy in verse. The big surprise here is just how apt a versifier Ives turns out to be — though perhaps not so much of a surprise when you consider that he is currently collaborating with Stephen Sondheim on a new musical. Replacing Corneille's blank alexandrines with iambic pentameter in rhymed couplets, he not only shortens the lines (from six to five stresses each) but offers a little gratuity every five seconds or so. Some of these couplet-closers will make you laugh out loud, just at the sonic surprise: "God" and "Gstaad," "succubi" and "pluck you by." Others are additionally festooned with winking internal rhymes that produce internal groans: 
Champs Elysées, my friend, lies thataway
Unless the Louvre has mouvred since yesterday. 
Throw in some on-point puns and the result achieves the pith and bling of aphorism: 
CLITON: If she was born to lie, I'd be elated.
DORANTE: Liars aren't born, Cliton. They're fabricated.
Even on the rare occasion when the rhymes are inaccurate ("exit" does not scan with "sexted," for instance, but it makes for a witty preshow announcement) the joke is usually worth the transgression. In sum, as far as the translation part of the translaptation goes, this is a beautifully rendered and rewarding rewording.
But perhaps the adaptation part suffers just a little for all that shiny wit. Mercilessly allegro and dense with enjoyments, it can sometimes feel a bit exhausting on the receiving end, like a gale that blows your eyes too wide open. Certainly it appears to be exhausting on the sending end; the characters are working very hard to keep their schemes and deceptions from collapsing, and the cast is working very hard to get the words out as fast as their tongues will take them. It amounts to too much unrelieved exertion for the play's good; a quiet moderato moment, the equivalent of a ballad, would be both useful and welcome on occasion. But instead Ives gives us a pile-up of bravura cadenzas, like Doronte's paean to the moral value of lying (it shows us what the world might be instead of the boring thing it is), and brilliant bits of theatricality, like a sword fight entirely in mime. Even the filler, of which there's not much, is patter.
It's too much to ask of a cast; at the breakneck tempo set by director Michael Kahn, some of the actors seem to strain to get every joke to land with a thump, when it might be more enjoyable if some coasted in quietly. One or two voices wear thin before the show is over, even in CSC's intimate auditorium. Still, the troupe — including Christian Conn as Doronte, Ismenia Mendes as Clarice, Amelia Pedlow as Lucrece, Tony Roach as Alcippe, and Kelly Hutchinson as the twin maids — is mostly expert, and in the case of Carson Elrod as Cliton, better than that; he's the only one who, despite Murell Horton's full-on 17th-century regalia, never seems to be playing a part. It helps that he's the one who speaks most frequently to the audience directly. 
In any case, to laugh heartily in the theater again, after what seems like 400 years, is worth any quibbles. If the silvered bust of Corneille overseeing the play from the top of a column of Alexander Dodge's neat little set remains expressionless throughout, so what? We must have comedy for our own times, and in that respect I think Ives understands Corneille in the only way that matters: He knows him now. 
The Liar is at Classic Stage Company through February 26.