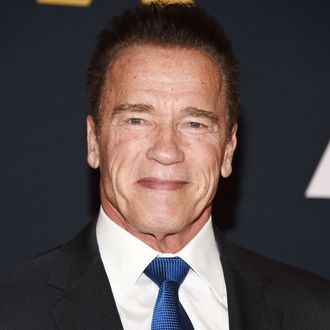 Arnold Schwarzenegger.
Photo: Amanda Edwards/WireImage/Getty Images
In the latest master class in making it all about you, President-elect Donald Trump took some time out of his busy schedule today to comment on how the new Celebrity Apprentice, a show which he continues to executive produce, has sunk to a new low in the ratings without him as a host. "Arnold Schwarzenegger got 'swamped' (or destroyed) by comparison to the ratings machine, DJT," Trump tweeted, referring to himself in the third person. "So much for … being a movie star-and that was season 1 compared to season 14. Now compare him to my season 1. But who cares, he supported Kasich & Hillary." In another universe, Celebrity Apprentice debuted to record-high ratings and Trump found a way to take credit for that, too.
Schwarzenegger quickly responded to Trump's tweets, writing, "There's nothing more important than the people's work, @realDonaldTrump … I wish you the best of luck and I hope you'll work for ALL of the American people as aggressively as you worked for your ratings." He then embedded a video of him reading part of Abraham Lincoln's first inaugural address, which he first shared in a tweet after the election, in a seeming appeal to the better angels of Trump's nature.