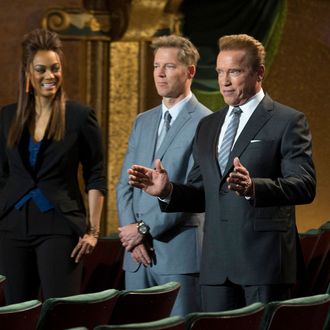 Will they all be terminated?
Photo: NBC/Luis Trinh/NBC
Donald J. Trump's first TV project as president-elect of the United States got off to a decidedly unspectacular start Monday. Despite nearly 16 months of hype, followed by a few weeks of controversy over Trump's decision to retain an executive-producer credit, NBC's Arnold Schwarzenegger–hosted The New Celebrity Apprentice drew a modest 4.9 million viewers and averaged a meh 1.3 rating among adults under 50, according to preliminary Nielsen estimates. Compared to the premiere of the most recent Trump-hosted Apprentice, which aired in January 2015 and opened with 6.8 million viewers and a 2.4 demo rating, the new edition dropped around 27 percent among all viewers and lost almost half of its under-50 audience. Fittingly, just like Trump, New Celebrity Apprentice ended its time slot in second place in the key demo, coming in behind popular-vote winner The Bachelor (2.1 rating). Sad!