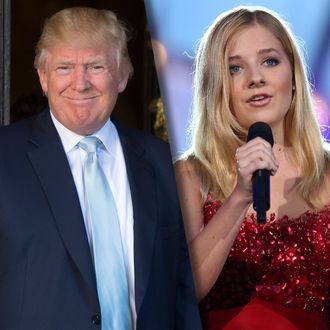 Sure.
Photo: Getty Images
Today in Donald Trump tweets, the president-elect is claiming to be the sole reason that opera singer and former America's Got Talent runner-up Jackie Evancho is getting a sales boost on the recent Billboard charts. His theory: Only after Evancho was announced as the National Anthem singer at the upcoming presidential inauguration did her sales "skyrocket." It's a cute theory, one that posits Trump as being responsible for giving Evancho her biggest break yet. But does it check out? Let's investigate.
Trump is correct that Evancho's sales have seen a bump since she joined his small inauguration lineup on December 15. But that's a convenient spin on the math: Evancho's latest of many holiday albums, Someday at Christmas, has been on the Billboard charts for nine weeks since its release on October 28, but it only recently reached No. 1 on the Classical Albums chart for the week dated December 17, two days after any Trump affiliation. Of course, Billboard's charts, which are powered by Nielsen Soundscan, aren't as up to speed with the news. Chart eligibility for that particular week ended on December 15, meaning Trump's impact needed to have been huge to make any difference in one day. (The album only sold 6,000 copies that week, according to Billboard.)
The following week, Evancho's album sold 11,000 copies, which, fair enough, is a large rise to double digits. But that was also the week before Christmas, when all holiday albums traditionally see sales gains — Billboard notes there was a 21 percent increase across the board — and the same week that Evancho performed on AGT's holiday show, making for more album promo. But because Evancho's album started off so small compared to say, Pentatonix's new holiday hit machine, she (and Trump) can brag that it had, as TMZ originally reported, a "quadruple" increase, even if that's not quite accurate. The album skyrocketed only if you think of it as a rocket that launched low and lost fuel midway up. The week after the holiday buzz, Evancho's album came slightly back down to Earth and sold 8,000 copies.
Someday is still No. 1 on the Classical Album charts, but over on the Billboard 200, which tracks all genres, it's actually down this week to No. 134 from its peak at No. 93, which it reached after the announcement and during the holidays. (In the chart that only accounts for pure sales, the album has peaked at No. 60 and is down this week there, too.) None of her songs are charting on the Hot 100. So while Trump's claims may technically be supported by numbers, it's safe to say they're overblown at best, especially once you take the charts and the time of year into account.