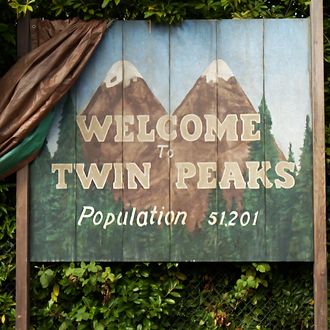 Photo: Screen Grab - Trailer
Filmmaker David Lynch made a surprise appearance at the Television Critics Association press tour on Monday, joining Showtime's panel for the highly anticipated Twin Peaks revival.
The famously secretive Lynch and series co-creator Mark Frost wrote and produced the new season, which will premiere on May 21. Lynch directed all 18 episodes. In his typical charming but elusive manner, Lynch did not answer questions about the show, its story lines, or its characters — but his answers were memorable nonetheless.
On his process creating Twin Peaks:
"In the beginning, many years ago, we were, Mark and I, as if lost in the wilderness. As it always is in the beginning. And then we seemed to find some mountain and we began to climb and when we rounded the mountain, we entered a deep forest, and going through the forest for a time, the trees began to thin, and when we came out of the woods, we discovered this small town called Twin Peaks. And we got to know many of the people in Twin Peaks and the people who visited Twin Peaks. And we discovered a mystery and within this mystery were many other mysteries and we discovered a world and within this world there were other worlds. And that's how it started. And that's what brought us here today. The story continues."
On whether fans should expect the new season to look and feel like the '90s series:
"This word expect is a magical word and people expect things and their expectations are met hopefully when they see the thing."
On whether he spent the past 25 years thinking about what happened to the town of Twin Peaks and its characters:
"I love this world of Twin Peaks. And I often thought about what might be happening. I often just remembered the beautiful world and the beautiful characters. So it was Mark who contacted me, many years ago now, and asked if I wanted to go back into that world. And we met at Musso & Frank and talked and that's what got us going again for this one.
On whether there are stories in the new series that he didn't get to tell the first time around:
"Well, in the beginning … I'm not really at liberty to talk about that."
On how he structured the series:
"It was, as you said, a story."
How he discovered he wanted to be a storyteller:
"I wanted to be a painter. I got into film because I wanted to make paintings move. I've been so lucky. I got green lights all along the way. So, go figure. Just very, very lucky."
On the original show's cancellation:
"Who killed Laura Palmer was a question we did not really want to answer. That Laura Palmer mystery was the goose that laid these little golden eggs. At a certain point, we were told we had to wrap that up and it never got going after that."
After Lynch's 15 minutes ended, five of the new series' actors appeared onstage: Mädchen Amick, Kyle MacLachlan, and Kimmy Robertson, who were a part of the original cast, along with Laura Dern and Robert Forster. Like the leader who hired them, none of them said anything specific about their roles on Twin Peaks, but all spoke of it as a "magical" time and a "beautiful gift."
"It was like a family," MacLachlan said. "It was a lot of fun. It was great to see everyone again."