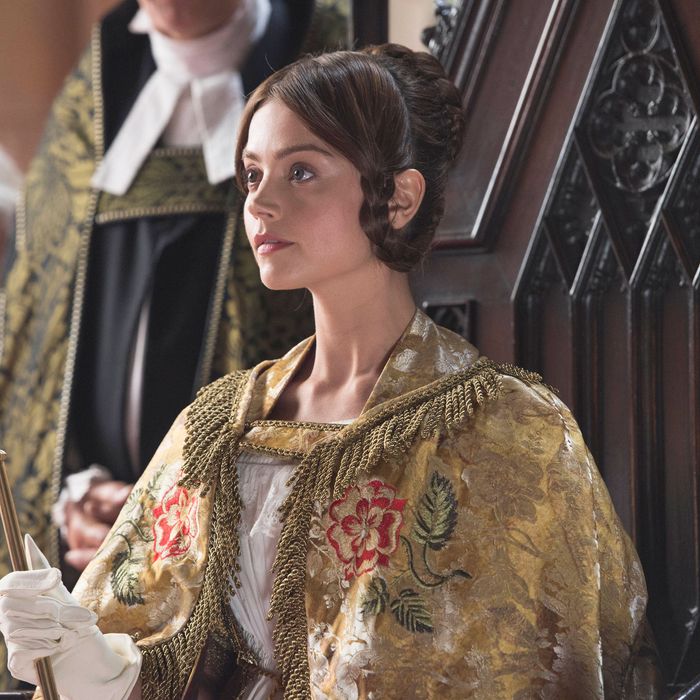 Jenna Coleman as Victoria.
Photo: ITV/PBS
For the first January in seven years, PBS is devoid of Downton Abbey, the addictive period piece/soap opera that, here in the U.S., gave public broadcasting cultural currency and a prime seat at the Emmy Awards table. With the show having ended its run nearly a year ago, PBS is surely eager to maintain a hold on its once Dowager Countess–obsessed viewers. To that end, it has taken Victoria — a drama that first aired last year on the U.K.'s iTV and traces the early days of the young, British queen's reign — and scheduled it in the Sunday Masterpiece time slot, the same broadcast real estate once occupied by Julian Fellowes and the Crawley family.
One can see how the audiences for both programs might overlap. Victoria focuses on the dynamics between a privileged, fiery monarch (Doctor Who's Jenna Coleman) and her thorny relationships with family members, romantic interests, and other advisers. Much of its action takes place within the walls of a notable address: Buckingham Palace, which, no offense to Lord Grantham, is even more grand and indicative of high stature than Downton. As crafted by creator and writer Daisy Goodwin, story lines also wind their way downstairs to spend time with the palace staff, in particular Marianne Skerrett (Nell Hudson), a newly hired dressmaid with (of course) some major secrets about her past.
But Victoria, which scored strong ratings in the U.K., doesn't seem poised to become quite the same cross-pond phenomenon that Downton did. It's a perfectly fine series, and offers much for fans of historical drama to savor, including heavy doses of romance; costumes rife with voluminous skirts and elaborate tiaras; political and dramatic intrigue; the subtext of actual events, with which, naturally, some liberties have been taken; and wealthy individuals doing fancy-people things like attending coronation balls or sitting in royal boxes while watching opera. But it also feels familiar, like it's following a basic British TV template that regular viewers of PBS, BBC America, or Acorn TV already know quite well.
The series begins in 1837, when Victoria, at all of 18, receives the news that her uncle, King William IV, has died and she will inherit the throne. Victoria's mother (Catherine Flemming) is eager to have her comptroller, Sir John Conroy (an appropriately imposing and insufferable Paul Rhys), start steering her daughter's decision-making process. But Victoria rejects that idea and quickly forges a bond with the prime minister, Lord Melbourne (Rufus Sewell), who mentors her in a way that becomes core to the plot as well as the show's strongest asset.
Coleman and Sewell have a natural chemistry together, and it's increasingly clear that there are embers of romantic feeling beneath their professional respect for one another. Sewell, trading in his Man in the High Castle Nazi uniform for British politics, exudes a gentle authority to which Coleman, a magnetic presence who's too ravishing to bear real resemblance to the woman she plays, visibly warms. They achieve such a nice temperature together that even if the idea of Melbourne and the queen getting it on seems preposterous — the real relationship between the two was reportedly close, but not as sexy as the series tries to make it — you're inclined to ship them anyway. That's just one of the ways that Victoria scoots away from the historical record for the sake of giving its audience a story more akin to something out of Jane Austen than actual fact.
People who know their actual facts also know that soon into her reign, Victoria married her first cousin, Albert. The evolution of that relationship eventually becomes key to the series, too, with the expectation that the two will wed setting up an awkward rom-com-ish pas de deux in an episode called "The Clockwork Prince." First they hate each other, then they might be into each other, then he seems disinterested, and then they share a dance at a party that, as depicted in a well-executed swooner of a sequence, ends with Albert (Tom Hughes) ripping a hole in his shirt so he can wear a corsage from Victoria closer to his heart.
Moments like that breathe much-needed life into a show that is sometimes a bit of a drag, especially when it focuses its lens on Skerrett and her fellow staffers. All the stuff about the downstairs folk feels tacked-on and underdeveloped, a blatant attempt to make Victoria a bit more Downton-y than it might otherwise have been. There's also a seriousness in tone that, while not exactly stuffy, could benefit from more moments of levity. I'm not going to say Victoria needs Maggie Smith to wander in and drop some choice bon mots, but it needs someone to do more of that sort of thing.
While the series makes a point of demonstrating how often the queen must battle sexism and dismissiveness triggered by her diminutive stature — Victoria was under five feet tall, and others constantly use her lack of height as yet another excuse not to take her seriously — it doesn't spend as much time as one might hope on watching her develop as an individual. Where The Crown, another story of a woman who became Britain's monarch at a young age, places a great deal of emphasis on Queen Elizabeth's evolution as a leader, Victoria leans heavily on observing its heroine through her relationships with other men. That can make for some reasonably enjoyable period-piece escapism on a Sunday night, but it doesn't push the genre into surprising places or suggest that Masterpiece has genuinely given us a new masterpiece. What it's given us is something that's good but hardly great, although perhaps that will be good enough for those still eager to fill the Downton Abbey–sized hole in their TV-watching hearts.