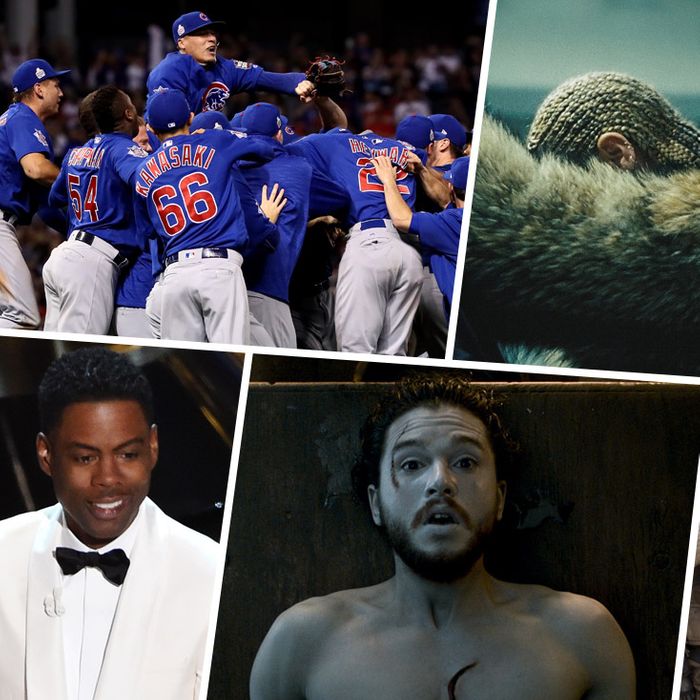 Photo: Getty Images, HBO, Lucasfilm
Every month, an exclusive newsletter goes out to the Vulture Insiders, our community of dedicated, enthusiastic, tuned-in readers. Its contents include entertainment recommendations from a Vulture staffer, a behind-the-scenes look at the making of a feature story, and an Insiders poll. Last month, that survey asked the group to name their favorite pop-culture moment of 2016. We've shared some of our favorite responses below. (For more information on how to become a Vulture Insider, click here.)
The refreshing nuance of Crazy Ex-Girlfriend
"Crazy Ex-Girlfriend buoyed me through 2016. I love the songs, cast, and dialogue, but what resonates deeper is the exploration of rom-com tropes, the vivid portrayal of the effects of a mother's narcissism on a daughter, and the harm done by society's mixed messages 'love conquers all,' 'too much love is crazy,' and 'be independent and confident.' Everyone feels so real and flawed and lovable." —Karina M.
Roísín Murphy lands Stateside
"I have been a huge fan of Roísín Murphy for years now, and she finally came through for her first North American tour last year! Performing a selection of songs from her solo career and her time with Moloko, her voice was even stronger than I expected. (Also: Moonlight!)." —Ferrin S.
People loved The People v. O.J. Simpson: American Crime Story
"In 2016, I sat on my couch transfixed for the second time in my life by the LAPD chasing a white Bronco. This scene in The People v. O.J. Simpson illustrated how the series married music, visuals, and story to honor a specific moment in our lives, while giving us the space to get 'meta' about the definition of entertainment." —Leslie P.
Beyoncé wins the Super Bowl
"Living in an era when 'female empowerment' has become an almost meaningless cliché and 'black power' has re-emerged in the public discourse as something intrinsically sinister, Beyoncé reclaimed both in her stunning Super Bowl performance. She killed it. She towered over Bruno Mars, outperforming him on his own song, and stomped around the field in perfect choreography like it was nothing (the slight awkwardness that seems to plague a lot of Super Bowl halftime shows was nowhere to be found). It was like she was saying, 'Yeah, I'm all power, and you fucking love it.' And we did." —Kristin T.
Rogue One connects the Star Wars universe
"I loved the Rogue One bridge that led us to 'a long time ago in a galaxy far, far away.' This 'Star Wars Story' closed the loop and opened a galaxy of possibilities. Director Gareth Edwards brought the imagination and action-figure adventures of my boyhood to life on the big screen." —Chad K.
Daenerys unleashes her dragons on Game of Thrones
"My favorite pop-culture moment of 2016 was seeing Daenerys and her dragons attacking the masters. After years of watching with hope seemingly nowhere to be found and the good guys constantly losing, I can now see how Daenerys can easily take over Westeros with her weapons of mass destruction. The white walkers, however, still look to be a challenge." —Howard S.
The Chicago Cubs, curse-busters
"After what felt like a billion years and in spite of the curse and the most intense and insane Game Seven in history, the Cubbies won the World Series. Clearly, that was the brightest spot in an otherwise horrible, terrible, no good, very bad year." —Sherri W.
Leah Remini speaks out about Scientology
"I've been fascinated by Scientology for over 30 years, so Leah Remini's break with the group and now her active attempt to stop their abusive practices through her A&E series Leah Remini: Scientology and the Aftermath has been one of the highlights of my pop-culture year." —Randy J.
Rihanna and Drake put in "Work"
"Aub-Rih was a short-lived spark of a celebrity romance, but boy was it a bright one. Rihanna and Drake's whirlwind relationship produced hits both in the studio, such as 2016's most repetitive song, and out of it, such as 2016's most epic case of kiss-dodging. You've got some big shoes to fill, Aub-J-Lo." —Josh G.
Rock rocks the Oscars
"My favorite pop-culture moment of 2016 has gotta be Chris Rock's Oscars monologue. In the lead-up to February 28, the question of how to deal with the nominees' lack of diversity was forefront on everyone's mind. As fate would have it, a comedian known for always speaking his mind was going to have the first crack. Not every joke worked, but overall it was about as cathartic a response to #OscarsSoWhite as we could have hoped for." —Jeff M.
Deadpool is actually funny
"Early trailers revealed Deadpool would not be as self-serious as some superhero films. I anticipated fun stuff but nothing as entertaining as Deadpool's opening credits: disparaging descriptions of stars and crew with a nod to its writers ("The Real Heroes Here"). The opening set the tone for the whole movie." —David C.
Ken Bone unites America
"I loved how everyone went ga-ga over Kenneth Bone. It was such a delight and a giddy distraction amidst a nasty election. At a time where people felt divided by their differences, Mr. Bone reminded us that no one is impervious to an adorable man in a warm red sweater's charms." —Nihana P.
Beyoncé wins HBO (and everything else there is to win)
"Lemonade! I've loved Beyoncé since her Destiny's Child days, but her visual album and HBO airing proved to the rest of the world that she's an icon. Not to mention the music on the album is good — who ever thought she would (and could) go country? All hail Queen Bey." —Nicole L.
Kelly Clarkson returns to Idol
"Kelly Clarkson's tearful performance of her hit 'Piece by Piece' during the final season of American Idol was my favorite pop-culture moment of 2016. It was a breathtaking full-circle moment as the queen of pop-rock struggled through heart-wrenching lyrics on the same stage that made her a superstar 14 years earlier." —Michael C.
Hillary Clinton's Twitter game
"Delete your account." Hillary used Twitter the right way when she responded to Trump's trolling with an interweb burn (that made her meta to Trump's nasty). I also loved Jon Snow's resurrection in Game of Thrones; I expected Jon to come back, but I still cheered the show's ability to surprise with such a low-key scene, and cheered again in anticipation of what this meant for the magic and brutality to come." —Cherie H.
Kanye West shares the stage on Saturday Night Live
"Kanye West has been kind of douchey, but his SNL performance and humility toward his featured rappers (Chance the Rapper, The-Dream, Kelly Price, and Kirk Franklin) had to be one of the better moments of music in 2016. At first I thought Kanye was going to be a spotlight hog, but he impressed me with his ability to let the others take over." —Cheryl L.
Key & Peele's golden curtain call
"My favorite pop-culture moment of 2016 was when Keegan Michael Key and Jordan Peele won a much-deserved Emmy for their final season. As one of the most consistently entertaining and often insightful shows on TV, it was about time they received proper recognition. It was the perfect send-off to an amazing show." —Kaitlin B.