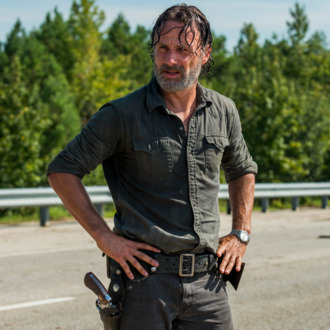 Batter luck next time.
Photo: Gene Page/AMC
The people behind The Walking Dead have realized that their last display of gore struck out with fans. After the series drew criticism for its exorbitantly bloody season-seven premiere, the show's producers have decided to tone it down, just a bit. "We were able to look at the feedback on the level of violence," executive producer Gale Anne Hurd said at a panel Wednesday, noting that the producers made adjustments in episodes that were still in production at the time of the premiere on October 23. "We did tone it down for episodes we were still filming for later on in the season." AMC Networks president and CEO Josh Sapan added that the strong reaction was also indicative of how many fans still care deeply about the show. "When something matters a lot and it has a universality, then you're bothered by it and you care about it," Sapan said. Vulture has reached out to AMC for clarity on which episodes were tweaked and will update if we hear back.