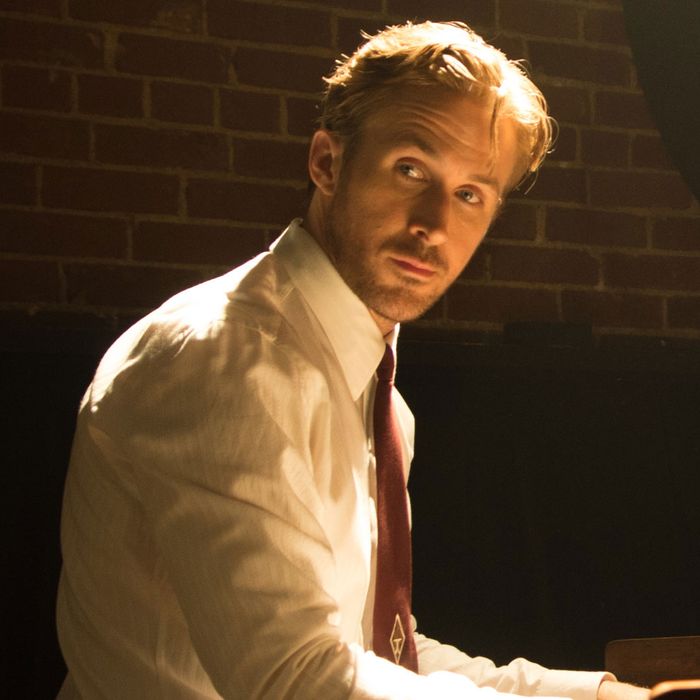 Photo: Dale Robinette/Lionsgate
It's easy to see why Damien Chazelle's La La Land was such a hit at the Golden Globes. The film is a charming romance of Hollywood nostalgia, one that boasts eye-catching cinematography, a robust musical score, and a crackling chemistry between the two leads. Its clear-eyed look at love and sacrifice will resonate with anyone who's had creative dreams. But if you know anything about music, the movie stops dead in its tracks when Sebastian, played by Ryan Gosling, starts to profess his love for jazz. It's not just Emma Stone's Mia who finds his jazz pedantry annoying. Nearly every jazz musician under 40 would be peeved, too, and with good reason: Sebastian would hate what they're doing. What should be a homage to jazz turns out to have narrow vision of the genre, aiming to draw hard boundaries around what it should and shouldn't be — a stance that's out of step with what the jazz scene actually looks like today.
The film's debate about jazz unfolds so quickly that it's easy to miss the nuances of what's being said. Sebastian feels that jazz is dying and wants to save it; as other essays have mentioned, the decision to position Ryan Gosling as the savior of jazz is racially tone-deaf at best . His character wants to show the world how to love "pure jazz," a term with multiple meanings. Based on the film's approach to jazz, Sebastian seems to be modeled after the neo-bop school of jazz artists. For at least the past 30 years, musicians of the neo-bop movement have bemoaned the addition of rock and hip-hop into the genre — a development usually called fusion jazz — seeing it as a death knell for the purity of their music. They usually think that jazz should sound they way it did before 1965; sometimes they shun electric instruments altogether.
Chazelle subtly plays into this with Sebastian. It's easy to see that Sebastian prefers acoustic piano; most modern jazz musicians play acoustic and electronic, but neo-bop followers try to avoid any computers in their instruments. Throughout the film, he references  Thelonious Monk and Charlie Parker as symbols of authenticity. He even worships a stool — yes, the thing you sit on — that was used by Hoagy Carmichael. When he is seen with an electric keyboard, it's with a rock band doing cheesy '80s covers for a pool party, or with his friend's new jazz group, and we're meant to see these gigs as Sebastian compromising his vision. The film never comes out and says exactly where Sebastian lies in the jazz spectrum, but for jazz fans, it's clear he follows the neo-bop school of thought — a notion of "real jazz" that's selective and combative. (It's worth noting that the director's earlier films, Whiplash and Guy & Madeline on a Park Bench, don't share such a prescriptive vision of what the genre should be.)
This kind of thinking isn't just dated; even at the height of the movement, neo-bop was divisive. Many neo-bop artists shunned any outside influences, and derided fusion music as worthless, taking barbed shots at artists we now consider musical pioneers. Miles Davis was often scorned for "selling out" when he crafted the groundbreaking album Bitches Brew, one of the first great jazz-rock records. To them, Miles was abandoning his roots, resorting to cheapened music to move records. As with many artistic debates, taste hardened into ideology; those who followed in Davis's footsteps were considered morally inferior. Only in recent years has the neo-bop school of thought lost ground. Now, most of movement's advocates have passed on, or bowed out to make room for the next generation.
Today's artists have realized that letting go of these conservative notions is best way to "save jazz." La La Land presents these arguments in the form of Keith, the fusion artist played by John Legend in the film. Though his words sound reasonable — he asks Sebastian how he's going to revolutionize jazz by being a traditionalist — Chazelle stacks the deck against him: Keith turns out to use a laughably '80s sound that's meant to seem completely disconnected from his jazz roots. For extra measure, he also uses a cheesy stage show complete with dancers — a luxury no modern jazz artist could afford, or would even consider. It's almost as if, well, the movie wants us to hate new jazz.
This is a vision of fusion jazz that sounds nothing like the contemporary jazz scene. Take Esperanza Spalding, a gifted musician who has brought renewed attention to the genre. One night she might go onstage with a band that mixes rock, R&B. and other influences; on another she might play with veterans Geri Allen and Terri Lyne Carrington in an all-woman trio. The same holds true for Robert Glasper, whose experimental troupe might do a jazz cover of a Nirvana song or pay homage to the late hip-hop producer J Dilla, but who also spends time in a more traditional group, the Robert Glasper Trio. Both Spalding and Glasper are highly regarded within jazz circles, drawing sizable crowds and winning Grammys in the process. Other acts like Kamasi Washington, Thundercat, and Otis Brown III refuse to be fixed on the idea of purity; they'd rather push jazz to evolve. Despite what La La Land might have you think, the genre has already reckoned with and resolved the debate over the sanctity of jazz.
And though it's tempting to say that the genre is dying, look elsewhere and you'll see the blood of the genre flowing in different places. In 2015 Kendrick Lamar dropped the critically acclaimed album To Pimp a Butterfly, a sprawling effort that pays homage to many genres, including jazz. (Glasper, Washington, and Thundercat all pop up in the album's credits.) Butterfly sounds less like a compromised vision than a bold exploration that pokes at the boundaries of different genres. Just last year, A Tribe Called Quest made their return after the tragic death of member Phife Dawg. The group is well-known for infusing hip-hop with jazz elements, and their new album, We Got It From Here … Thank You 4 Your Service, continues in that tradition while updating the sound. It's almost been universally hailed as a triumph. Twenty years ago, these albums would have been blasphemous to jazz purists, who didn't think hip-hop was "real music." This may sound ludicrous to the modern reader, but back in the '80s and '90s it was absolutely a common belief — one that La La Land shares, to its own detriment.
Ironically, a movie that venerates the jazz greats of the past could stand to learn a lesson from one of the most iconic musicians of the genre: Miles Davis. Davis was never opposed to traditional jazz, but he preferred to push forward and experiment with new ideas, a notion explored in Don Cheadle's 2016 film Miles Ahead. That film has its own flaws, and at times it approaches self-parody, but it does a better job of freeing the reins of jazz. In the film's final scene, Cheadle's Davis breaks from the fictional story to play a concert in the present day. His band is filled with some of the biggest stars of the genre: legends like Wayne Shorter and Herbie Hancock, newcomers Spalding and Glasper, and even blues rocker Gary Clark Jr. This moment of collaboration gives us a vision of how jazz works in its finest moments: It's an exchange between minds, between different backgrounds. The moment might be a bit too on the nose, but it offers no pretense either. It carries a simple message: Let the music grow.
By contrast, it's hard not to detect a whiff of ideological snobbery to La La Land. The movie will undoubtedly continue to rack up awards, and introduce newer generations to jazz. It's just unfortunate that, as parts of the jazz world have finally ditched rigid definitions of what the genre should be, the conservative vision is now being pushed to global audiences again. If Sebastian, and perhaps Chazelle, really want to save jazz, the solution is to let people freely choose what they enjoy about the music. La La Land shows that people will like jazz if it's introduced to them without condescension; perhaps the director could step outside of the film's narrow vision and realize this, too.
Seve Chambers is a journalist based in Brooklyn. He is currently working with Brian Jackson, Gil Scott-Heron's former collaborator, on his memoir.