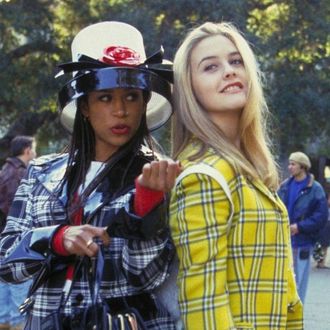 Photo: Paramount Pictures
Each month, several films and TV shows leave Netflix's catalogue. We provide a list of departing titles so you can watch them before they're gone forever (or are just available on a different site). For more comprehensive coverage of the best titles available on Netflix and elsewhere, check out Vulture's What to Stream Now hub, which is updated throughout the month.
Less Convenient Than Ever: An Inconvenient Truth
As Al Gore has just premiered An Inconvenient Sequel at Sundance, his decade-old original documentary — the first piece of mainstream entertainment to introduce the dangers of human-made climate change to a general audience — is about to be put under yet another microscope as we figure out how much we've truly learned in the intervening years. Though it became trendy in right-wing circles to dismiss the warnings raised by Truth because they came out of Gore's mouth, it should be obvious by this point we simply can't afford to politicize the environment anymore. Leaving February 1.
Choose Life: Trainspotting
Would any Vegas oddsmaker have pegged 2017 as the year when we would see sequels to both An Inconvenient Truth and Trainspotting? Danny Boyle's original grim odyssey of a bunch of Edinburgh substance abusers still shocks and awes with its stylistic verve, most notably with regard to Ewan McGregor's fidgety, fraught performance. Refresh your memory before T2: Trainspotting hits theaters this month. Leaving February 1.
Gold and Silverstone: Clueless
Ask Vulture's own Jen Chaney about the lasting cultural impact of Amy Heckerling's very, very '90s update of Jane Austen's Emma — she wrote a whole book about it. A reminder of how smart teen movies can be when they actually try, Clueless is also a showcase for a whole host of talented screen presences — from Brittany Murphy to Paul Rudd — at their moments of ascendancy. Though the film's style may be rooted in a specific moment in time, its wit and insight will continue to be embraced by everyone for generations to come. Leaving February 28.
Noteworthy selections in bold. 
February 1
A.C.O.D.
An American Girl: Saige Paints the Sky
An Inconvenient Truth
Ashby
Black Hawk Down
Bratz: Babyz: The Movie
Bratz: Super Babyz
Charlotte's Web 2: Wilbur's Great Adventure
Clerks
Elizabeth
Extract
Failure to Launch
Frida
Girls Just Want to Have Fun
Jackass 2.5
The Kite Runner
Lalaloopsy Girls: Welcome to L.A.L.A. Prep School
Last Holiday
The Machinist
Mission Impossible: III
The Original Latin Kings of Comedy
Sahara
Save the Last Dance
Serving Sara
Star Trek: Nemesis
There Will be Blood
Trainspotting
What's Eating Gilbert Grape
February 7
Justin Bieber's Believe
February 12
Grounded for Life: Seasons 1–5
February 13
The Nut Job
Scary Movie 5
February 15
Brothers in War
Chris Porter: Ugly and Angry
Closure
Exile Nation: The Plastic People
Jack Frost
I Am Not a Hipster
Plastic Paradise: The Great Pacific Garbage Patch
Prince of Broadway
Stephanie in the Water
The Man on Her Mind
Unlikely Animal Friends: Season 2
February 16
Santa Claws
Somewhere
February 17
Winnie the Pooh: A Very Merry Pooh Year
February 19
Problem Child: Leslie Jones
February 28
Clueless