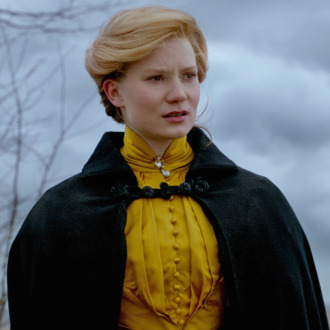 Photo: Legendary Entertainment
At the beginning of (and during) each month, HBO adds new movies and TV shows to HBO Go and HBO Now. Below, you'll find our February 2017 recommendations. For more comprehensive coverage of the best titles available on HBO and elsewhere, check out Vulture's What to Stream Now hub, which is updated throughout the month.
Watch the right thing: Selected Works of Spike Lee
You've already seen Do the Right Thing, yes? Lee's feverishly shot, unbearably poignant 1989 wake-up call is the most readily invoked movie whenever people want to talk about influential works by directors of color, but Lee has had a long and fruitful career beyond this magnum opus. So don't forget to try out three of his early-'90s, post-Radio Raheem offerings: the trailblazing drug-dealer mystery Clockers, the tough and loving brownstone family life of Crooklyn, and the swooning jazz rhythms of Mo' Better Blues. All available February 1.
Ghostly grandeur: Crimson Peak
"This is not a horror movie," Guillermo del Toro repeated, three times, when introducing a screening of his lush Gothic romance at last year's Ebertfest. Maybe his brilliantly demented, obsessive love story — featuring Mia Wasikowska as the young waif drawn to Tom Hiddleston's snake-oil charms as a scheming entrepreneur, with fire-eyed Jessica Chastain lurking in the background as his fiercely protective sister — isn't "horror" in the modern, jump-scare sense. But how else can we interpret the blood-red, impeccably detailed production design of that lavish haunted house, or those screaming ghouls who emerge from the floorboards? Besides, watching Crimson Peak this month will protect you from HBO's six words of true horror: The Huntsman: Winter's War: Extended Cut. Available February 5.
Cold to the touch: Tickled
Here is a painful paradox. I want so much to tell you how this documentary — about two New Zealand journalists who investigate a mysterious "competitive tickling competition" in the U.S. — accidentally became the perfect deconstruction of wealth and masculinity in the modern age. But Tickled is so shocking that it must be experienced as cold as possible, with little-to-no knowledge of what transpires. Filmmakers David Farrier and Dylan Reeve didn't know what they were getting into when they set out to discover what an underground tickling subculture looks like, and neither should you. Just be prepared to jump down a rabbit hole of darkness and cruelty that will utterly scramble your mind. Available February 27.
Noteworthy selections in bold.
Starting February 1
42
A Bigger Splash
The Breakfast Club
Bridget Jones: The Edge of Reason
Broadcast News
Clockers
Crooklyn
Crossroads
December Boys
Do The Right Thing
Earth Girls Are Easy
Hard To Kill
Interview With the Vampire
Journey to the Center of the Earth
Just Married
Men in Black II
Mo' Better Blues
Mystic River
Out For Justice
The Princess Diaries 2: Royal Engagement
Raging Bull
Rain Man
Rendition
Road to Perdition
Rosewood (1997)
Sixteen Candles
Snow Dogs
Unfaithful
The World According to Garp
February 4
The Huntsman: Winter's War (Extended Cut) 
February 5
Crimson Peak
February 6
Solitary: Inside Red Onion State Prison

February 9
Sinister 2
February 11
Central Intelligence (Extended Cut)
February 13
Eagles of Death Metal: Nos Amis

February 18
The Legend of Tarzan
February 20
Unlocking the Cage

February 25
Mike and Dave Need Wedding Dates

February 27
Tickled