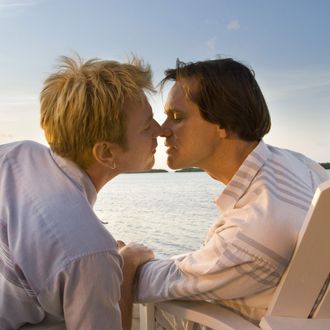 At the beginning of (and during) every month, Hulu adds new movies and TV shows to its library. Below, you'll find our recommendations for February 2017. For more comprehensive coverage of the best titles available on Hulu and elsewhere, check out Vulture's What to Stream Now hub, which is updated throughout the month.
Con from the heart: I Love You Phillip Morris
True-crime stories have a peculiar hold on us when they're also naturally funny. Exhibit A is this nutzoid Jim Carrey/Ewan McGregor comedy about flamboyant conman Steven Russell, who falls in love with his prison cellmate and spends years embroiled in a series of schemes to build a life for the two of them. Carrey's most recent great acting role, Phillip Morris is also a demented twist on the search for happiness that consumes us all. Available February 3.
Storybook love: Sabrina

A classic example of a romantic comedy that revels in the movie-fantasy life it creates, Billy Wilder's 1954 love triangle between a chauffeur's daughter, a wealthy playboy, and his younger brother got the three biggest stars of the era — Audrey Hepburn, Humphrey Bogart, and William Holden — together on one swooning set. Forty-one years later, Sydney Pollack's remake cast Julia Ormond, Harrison Ford, and Greg Kinnear, and somehow managed a modern update to an era-defining work that didn't totally blow the game. If you don't know Sabrina, you don't really know Hollywood romance. Both available February 1.
Chasing trains: The Station Agent
Before Peter Dinklage committed himself to years and years of Tyrion Lannister, he was a burgeoning character actor who broke out with this warm, wonderful comedy about three lonely people finding each other in rural New Jersey. Tom McCarthy's lovely directorial debut also features wonderful supporting roles from Patricia Clarkson and Bobby Cannavale. It's the kind of film you'll still be recommending to your friends a decade from now, as you remark on how it never really faded from your mind. Available February 1.
Noteworthy selections in bold.
TELEVISION
February 1
The Only Way Is Essex: Complete Season 17
February 4
Murder in the First: Complete Season 3
February 7
Gender Revolution: A Journey with Katie Couric: National Geographic Special
February 8
Devious Maids: Complete Season 4
Lawless Oceans: Complete Season 1
UnREAL: Complete Season 2
February 12
K.C. Undercover: Complete Season 2
Puppy Days: Complete Season 1
February 13
Golden Girls: Complete Series
February 18
The Boondocks: Complete Series
MOVIES
February 1
Addicted to Love
The American President
Black Hawk Down
Care Bears Movie
Chocolat
City of Angels
Dead Heat
Drop Zone
Dying Laughing
Escape From Alcatraz
Failure to Launch
The Firm
Forces of Nature
Forget Paris
The Fountain
Frankie & Johnny (1991)
From Dusk Till Dawn
Girl, Interrupted
Hoosiers
How to Eat Fried Worms
Hubble
I Went Down
Judgment Day
Kiss the Bride (2004)
The Machinist
Olympic Pride, American Prejudice
Payback
Pretty in Pink
Rent
Revolutionary Road
Rob Roy
The Running Man (1987)
Sabrina (1954)
Sabrina (1995)
Shakespeare in Love
Soapdish
There Will Be Blood
The Station Agent
Untamed Heart
Wild Bill
February 3
I Love You Phillip Morris
The Dog
February 4
Margin Call
February 6
Hostile Boarder
The Look of Love
Restored Me
February 11
Kampai! For the Love of Sake
February 15
American Teen
February 20
As Cool As I Am