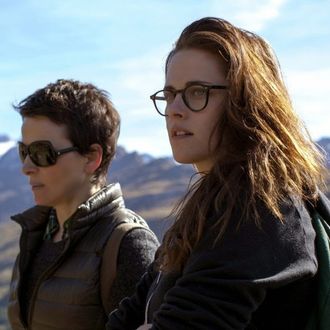 At the beginning of (and during) each month, Netflix adds new movies and TV shows to its library. Below, you'll find our February 2017 recommendations. For more comprehensive coverage of the best titles available on Netflix and elsewhere, check out Vulture's What to Stream Now hub, which is updated throughout the month.
The Act of Acting: Clouds of Sils Maria
Let us no longer entertain the embarrassingly outdated notion that Kristen Stewart is a bad actress. In advance of her new partnership with filmmaker Olivier Assayas, Personal Shopper, entering U.S. theaters on March 10, watch their first pairing in this exquisite 2014 drama about an aging actress (the wonderful Juliette Binoche) preparing to restage the play that once made her famous, with Stewart, finely nuanced and heartbreaking, playing her loyal assistant. As they vacation through the Swiss mountainscape of the title, these two performers are locked in a ballet out of step with the changing modern world, until they are forced to acknowledge that fame, beauty, and life are fragile, fleeting things. Available February 12.
The Great Beyond: Sausage Party
If you ever chuckle while sliding a hot dog into a bun during a BBQ, this utterly filthy animated movie from producers and co-writers Seth Rogen and Evan Goldberg is for you. Getting away with far deeper levels of crudity (crudité?) than they would ever manage in their live-action efforts, Rogen and Goldberg serve up gag-a-minute food puns and a strangely earnest dissection of organized religion in their Pixar-spoofing cartoon about supermarket items who have yet to discover what humans do with them once they're plucked off the shelf. Hold the salt; Sausage Party has enough bath salts as it is. Available February 23.
Simple Biology: Girls Lost
While we were waiting for Hollywood to tell a decent story about gender identity, Sweden went ahead and laid down the marker themselves. Girls Lost is a trippy, touching sci-fi fable about three preteen girls who discover a flower that switches their biological sex overnight — and realize, once out in the world, that some of them might prefer life as a boy. The nature-inspired imagery is luscious, the performances (each lead is played by two actors, one of each gender) are a marvel, and for as high-concept as this logline might be, the confused emotions of adolescence on display are genuine and heartbreaking. Available February 6.
Noteworthy selections in bold. 
TELEVISION
February 1
Les Beaux Malaises: Seasons 1–4
Masha's Spooky Stories: Season 1
The Furchester Hotel: Season 1–2
February 2
American Crime Story: The People v. O.J. Simpson
Frequency: Season 1
February 3
The Santa Clarita Diet 
February 11
Crazy Ex-Girlfriend: Season 2
February 14
Project Mc 2: Part 4
February 17
Chef's Table: Season 3
DreamWorks Dragons: Race to the Edge: Season 4
The Seven Deadly Sins: Season 2
February 19
Girl Meets World: Season 3
When Calls the Heart: Season 3

February 24
Legend Quest: Season 1
VeggieTales in the City: Season 1
MOVIES
February 1
Ashley Madison: Sex, Lies, and Cyber Attacks
Babe
Babe: Pig in the City
Balto
Balto 2: Wolf Quest
Balto 3: Wings of Change
Contact
Corpse Bride
Eleven P.M.
Finding Dory
From This Day Forward: A Trans Love Story
Gun Runners
Hell-Bound Train
Highly Strung
Hot Biskits
I Am Sun Mu
Invincible
Magic Mike
Mother With a Gun
Paris Is Burning
Project X
Sun Belt Express
Silver Streak
The Blair Witch Project
The Chronicles of Narnia: The Lion, the Witch & the Wardrobe
The Five Heartbeats
The Girl From Chicago
The Longest Day
The Nightmare Before Christmas
Twilight
Women in Gold
February 3
Daniel Sosa: Sosafado
Imperial Dreams

February 4
Superbad
February 5
Elvira I Will Give You My Life But I'm Using It
Los Herederos
February 6
Girls Lost
Me, Myself and Her
February 7
Michael Bolton's Big, Sexy Valentine's Day Special
February 8
Tiempos Felices
Girl Asleep
February 10
Abstract: The Art of Design
David Brent: Life on the Road
February 11
Stronger Than the World
February 12
Clouds of Sils Maria
February 13
Code: Debugging the Gender Gap
Magicians: Life in the Impossible
February 14
Girlfriend's Day
Katherine Ryan: In Trouble
King Cobra
White Nights
February 15
Aram, Aram
Before I Go to Sleep
Fire Song
February 16
Milk
Sundown
February 17
Kill Ratio 
February 19
Growing Up Wild
Tini: El Gran Cambio De Violetta 
February 23
Sausage Party 
February 24
I Don't Feel at Home in This World Anymore
Ultimate Beastmaster
Ultimate Beastmaster Mexico
February 26
Night Will Fall 
February 27
Brazilian Western 
February 28
Be Here Now
Michael Birbiglia: Thank God for Jokes