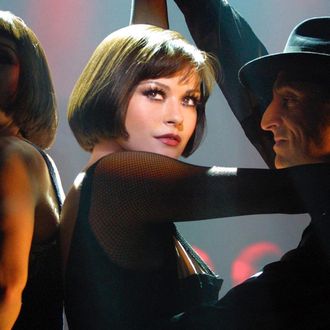 Each month, Showtime adds new movies to its library. Below, you'll find our February 2017 recommendations. For more comprehensive coverage of the best titles available on Showtime and elsewhere, check out Vulture's What to Stream Now hub, which is updated throughout the month.
All That Spazz: Chicago
Everyone cares about movie musicals again! Thanks to La La Land's Oscar-endorsed resurgence, we're being treated to a fresh round of "they don't make 'em like they used to / well, should they be making 'em like they used to?" hot takes. But when it comes to megawatt song-and-dance productions of the 21st century, the story of the murderess who successfully leverages scandal into showbiz fame stands as one of the only musicals to function both as crowd-pleasing throwback fare and subversive social-commentary cinema. Available February 15.
Ruffalo Your Feathers: You Can Count on Me
Oscar nominee Kenneth Lonergan (Manchester by the Sea) first announced his superb gift for finely rendered, character-based drama with this 2000 directing debut. Two adult siblings, played by Laura Linney and Mark Ruffalo, reunite at a difficult moment in both their lives, with Linney a struggling single mother and Ruffalo an emotionally volatile drifter. Here, as in Manchester and his masterpiece Margaret, Lonergan shows he's in tune with the peculiar ways adults and young people interact. Available February 1.
Triple WTF: Triple 9
One of the oddest mainstream thrillers to emerge in recent years, this multiple-perspective cops-and-robbers film from absurdly overqualified director John Hillcoat will be best remembered for casting Kate Winslet as a Russian mob boss — accent, beehive hairdo, and all. But the sheer amount of talent on display in this cast, from Casey Affleck and Chiwetel Ejiofor to Woody Harrelson and Anthony Mackie, along with the frenzied action sequences give the film a De Palma touch, suggesting Hillcoat was striving for something more than a run-of-the-mill genre flick. Available February 3.
Noteworthy selections in bold.
February 1
Akeelah and the Bee
Blue Crush
Brokeback Mountain
Diary of a Mad Black Woman
The Hurricane
Orange County
You Can Count on Me
February 3
Triple 9
February 4
Don Jon
February 6
Crash (2004)
February 10
Nick Cannon: Stand Up, Don't Shoot
February 11
Fifty Shades of Black
No Country for Old Men
February 15
Chicago
February 25
Spy Kids