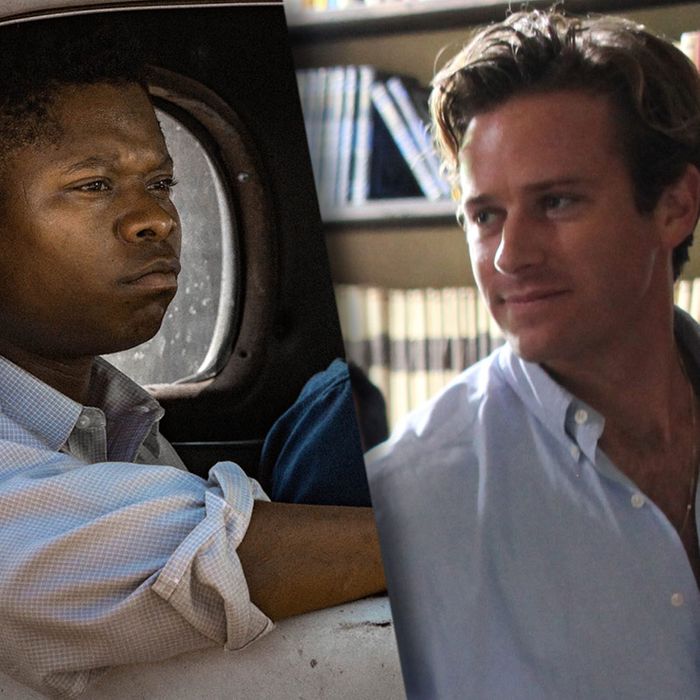 L-R: Jason Mitchell in Mudbound, Armie Hammer in Call Me by Your Name.
Photo: Sundance Film Festival
Is it too early to begin talking about next year's Oscar race when this year's hasn't even concluded? Not when it comes to the Sundance Film Festival. The annual Park City extravaganza regularly premieres films that will go on to become major awards-season players: Since the Academy opened up Oscar's Best Picture race to more than five films, rarely a year has gone by without at least one of those contenders — such as this year's multiple-nominee Manchester by the Sea — bearing the imprimatur of a Sundance premiere, and a full fifth of this year's nominated performances came from Sundance films. As the 2017 edition of the Sundance Film Festival comes to a close, then, what films have we seen there that are likely to figure into the next Oscars race?
The most acclaimed film of the fest, Luca Guadagnino's lush Call Me by Your Name, is almost certain to be a major contender. Based on the book by André Aciman, it follows the Italian love affair between a young academic's son (Timothée Chalamet) and a hunky, American research assistant (Armie Hammer), and if this isn't in the Best Picture ring a year from now, I'll do unspeakable things to a peach. Several of the film's behind-the-scenes contributions are likely to catch Oscar's eye — nods for Best Director, Best Adapted Screenplay, and Best Cinematography are all warranted, while indie troubadour Sufjan Stevens has two potential submissions for Best Original Song — but I'm most interested to see how it could affect the acting races.

Twenty-one-year-old Chalamet is a major revelation, and while the Academy doesn't traditionally go for young men in his age group, they made an exception this year with Manchester's 20-year-old Lucas Hedges, a Best Supporting Actor nominee. Chalamet would almost certainly contend for Best Actor, where Hammer ought to compete, too, though Sony Pictures Classics may pull a Carol by running one in the lead race and one as supporting. The only fly in that ointment is that Michael Stuhlbarg, who plays Chalamet's sensitive father, has a knockout monologue near the end of the film that doesn't just make him a lock for a Best Supporting Actor nomination, but anoints him as the current pace-setter in that category. If one of the film's co-leads dropped down a rung, would Stuhlbarg swamp them?

Another one of this year's most buzzed-about Sundance films is also looking to become a major awards-season player, the Dee Rees–directed Mudbound. This drama tracks two very different Mississippi families in the aftermath of World War II: the white McAllans, headed by Jason Clarke and Carey Mulligan, and the black Jacksons, a family led by Rob Morgan and Mary J. Blige. The Jacksons work the McAllans' land as sharecroppers, but they become even further intertwined than that, especially as each family welcomes home a relative from the war. Clarke's brother Garrett Hedlund returns as a semi-woke drunk, while Morgan and Blige's son, Straight Outta Compton scene-stealer Jason Mitchell, has tasted liberation abroad and can't easily reacclimate to the racist South.

Rumor has it that Mudbound's interested studio suitors must commit to a major Oscar campaign that could make Rees the first black woman to be nominated for Best Director. She certainly has a strong case, though a second pass in editing would help, too: Adapted from the novel by Hillary Jordan, Mudbound contains at least 20 minutes' worth of digressions and superfluous side characters that, if pruned, would let the strong spine of the movie come to the fore. There is a real masterpiece lurking inside this film, with strong performances from Mitchell, Hedlund, and Blige and a nuanced deconstruction of race, privilege, and best intentions that feels every bit as relevant today.

The biggest sale of Sundance went to The Big Sick, the culture-clash comedy from director Michael Showalter and writer-star Kumail Nanjiani. Bought by Amazon (the shopping giant and fledgling distributor that put out Manchester by the Sea) and based on the real-life relationship between Silicon Valley's Nanjiani and his co-writer wife Emily V. Gordon, The Big Sick starts as a complicated but witty rom-com about a Pakistani-American (played by Nanjiani) whose family won't condone his budding relationship with a white woman (Zoe Kazan). Things take a dramatic turn when she's felled by a mystery illness and placed in a coma, and he must now grapple with her parents, played by Holly Hunter and Ray Romano. Hunter, in particular, is absolutely delicious with one tour de force comic scene underpinned by real feeling — I'd love to see her as a Best Supporting Actress contender. At the very least, expect The Big Sick to be in the race for Best Original Screenplay, though if it breaks out at the box office like Amazon intends, more categories could be up for grabs, too.

Other Sundance films looking to make a dent in next year's Oscars race include Novitiate, which stars Oscar winner Melissa Leo as a sadistic nun, and a host of documentaries — like An Inconvenient Sequel, which follows up the Oscar-winning Al Gore climate-chance treatise — that could fill up the Academy's doc category. But another, scrappier film to watch for is Patti Cake$, the crowd-pleasing, high-selling comedy starring breakout Danielle MacDonald as an overweight white Jersey girl who won't let bullying get in the way of her rap-star dreams. The "Mama, I've gotta sing!" story is hoary, but the actors are appealing and the songs are drilled into your skull by the movie's end. Don't be surprised if next year's staid Oscar ceremony is interrupted by a bizarre and energetic rap performance from the film's unlikely group of misfits on the mic, "PBNJ."