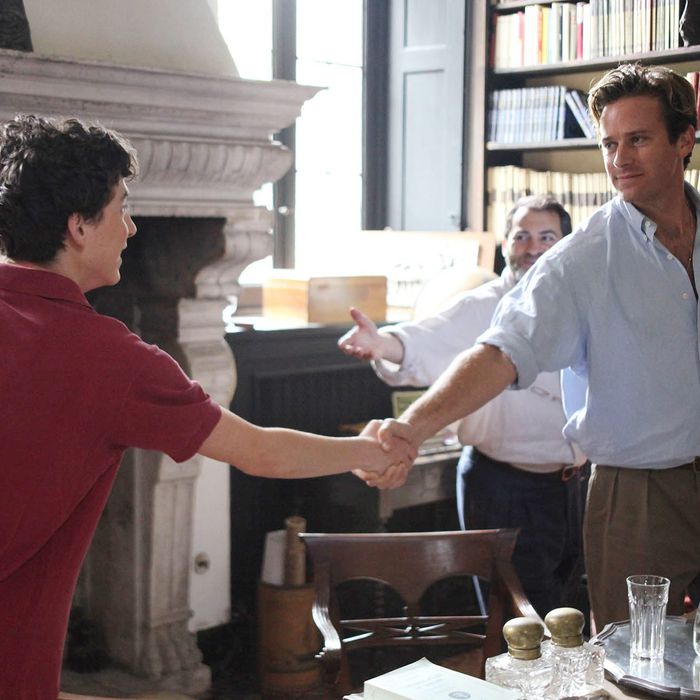 Photo: Sundance Institute
An hour after the sensational Call Me by Your Name unspooled for the first time at the Sundance Film Festival, director Luca Guadagnino and his stars Armie Hammer and Timothée Chalamet gathered in a cramped little room for a post-premiere ritual: the reading of the tweets.

"Standing ovation at Sundance for Call Me by Your Name," Guadagnino recited in his thick Italian accent, "which is beautiful visually, emotionally, and, my god, sexually."
Guadagnino continued scrolling through his smart phone and read another: "I'm on a cinematic high from Call Me by Your Name still. Dancing around the streets, can't stop thinking about it. This film. THIS FILM."

Hammer, whose right arm is in a sling thanks to a torn pectoral muscle, used his other arm to give Chalamet an appreciative slap on the back. He was beaming, and a little confused. "Isn't the internet supposed to be mean?" Hammer said.

Not this time. Several of this year's Sundance movies have scored — the Kumail Nanjiani comedy The Big Sick merited an eye-popping, well-deserved sale, while critics were buzzing about Casey Affleck and Rooney Mara in the languorous drama A Ghost Story — but it's Call Me by Your Name that feels like a landmark. Adapted from the novel by André Aciman, it stars Chalamet as the 17-year-old Elio, who's spending a lazy summer in the Italian countryside with his parents. Excitement arrives in the form of Hammer's tall, tanned Oliver, an American research assistant who's come to the country to work with Elio's professor father (Michael Stuhlbarg). At first, Elio regards the newcomer warily. Though he comes up with all sorts of reasons to spend time with Oliver, Elio also condescends to him: The child of two brainy academics, Elio mocks Oliver's American slang and pulls away, as if burned, from Oliver's friendly touch. But if Elio sometimes treats Oliver like an irritant, it's only because the older man has gotten under his skin.

Their verbal jousting starts to carry an erotic charge, and the summer gets its spine as Elio and Oliver circle one another, each daring the other to make the first move. Once they've finally consummated their flirtation — with a first kiss that is as playful as it is sexy — it's impossible to part them, though the looming end of Oliver's stay in Italy will curtail their relationship just as it's beginning. "We wasted so many days," a regretful Elio says, wrapped up in Oliver's arms. This is his first love, and while their affair may be brief, what it stirs in Elio's heart and mind will be there forever.

Though many thought the success of 2005's Brokeback Mountain would pave the way for more top-tier films about same-sex love, it's only recently, with movies like Carol and Moonlight, that Brokeback's accomplishment appears to have borne fruit. Call Me by Your Name is every bit as marvelous as those films, and it's directed with striking confidence by Guadagnino, whose previous movies, A Bigger Splash and I Am Love, were delightful in their bratty brashness. This film is more tempered but every bit as intimate, especially when Hammer and Chalamet shed their clothes, their bodies becoming billboards for desire. "I truly tried to diminish the sense of sacredness that happens when you film naked actors and actresses," Guadagnino told me last night. "I don't like that prudishness."

It wouldn't have worked if his leads had refused to give their all. After a string of would-be franchise-starters like The Lone Ranger and The Man From U.N.C.L.E., Hammer turns in his best work since his breakout dual role as the Winklevoss twins in The Social Network, and he said he relished the opportunity Call Me by Your Name gave him. "This movie will forever stay with me," Hammer told me. "We moved for several months to a tiny town in Italy where no one spoke English, giving up everything about our normal lives back home and committing to this. Going to those places … it was just an amazing experience, all around."

Hammer's strongest praise, though, was reserved for his young co-star. "Timothée is the best thing in this movie," said Hammer, "and he deserves every single accolade he's going to get for it." Best known for a Homeland arc as Dana Brody's boyfriend, the 21-year-old Chalamet is a major revelation here. So whippet-thin that he appears to have hit a growth spurt overnight, Chalamet delivers an impressively physical performance, testing not just his sexuality but his gangly arms and legs. He dances in and out of frame, lunges for his lover, and thrashes around in bed, suggesting that as he enters adulthood, Elio leads with his body and lets his brain catch up.
It all culminates in a remarkable whopper of a final shot that simply films Chalamet in close-up for several minutes as he processes the impact of his affair, tears in his eyes and a smile playing on his lips. It's the movie in miniature, and if Guadagnino hadn't already called a film I Am Love, he could use those three words to describe what Chalamet does in that scene. His heart is broken, but his spirit is soaring. Love can do that, and falling in love with a movie can do that, too.