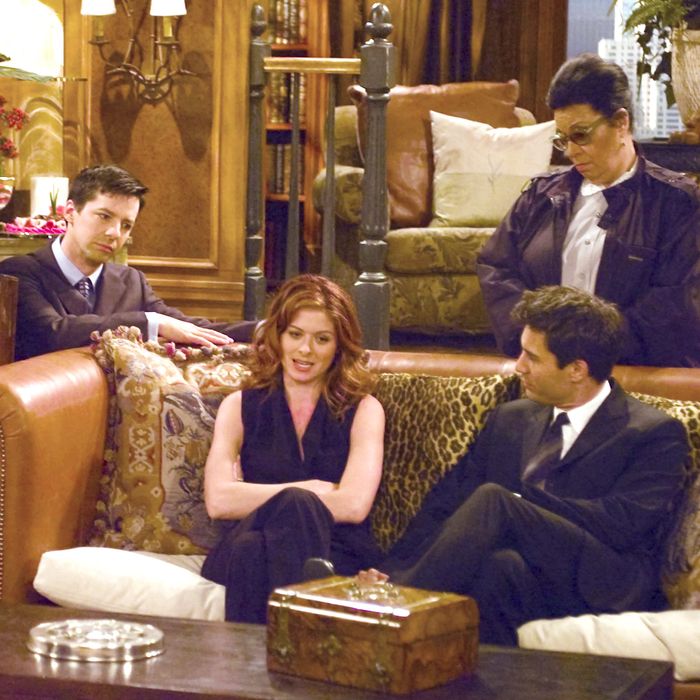 WILL & GRACE – "24" Episode 24 – Air Date 05/15/2003 – Pictured: (l-r) Megan Mullally as Karen Walker, Sean Hayes as Jack McFarland, Debra Messing as Grace Adler, Shelley Morrison as Rosario Salazar, Eric McCormack as Will Truman – Photo by: NBCU Photo Bank
Photo: NBC/NBC via Getty Images
TV executives have been exhuming the rotting corpses of former hits for almost as long as there have been networks. Beyond the recent revivals of The X-Files,  Arrested Development, Heroes, and Gilmore Girls, the 1980s and early 1990s saw broadcasters rushing to capitalize on boomer nostalgia with zombie versions of series that had been dead for decades, from Leave It to Beaver and The Brady Bunch to Get Smart and The Munsters. So NBC's announcement Wednesday that it's resurrecting Will & Grace for a "limited run" next season hardly qualifies as groundbreaking: Making money off the past is TV 101. Still, even if it's not a revolutionary move, the W & G curtain call — if successful — could end up making a bigger splash than previous attempts to recapture past ratings glory. And best of all, the new economics of TV mean there's probably not all that much risk to NBC's bottom line if the show ends up tanking with viewers.
First, it's worth noting what makes the Peacock's play with W&G a bit different than most other such revivals. Until now, TV's recent attempts to restart an old franchise have mostly been of dramas with cult followings (including Fox's upcoming Prison Break). The few comedies that have come back were also shows deemed to have ended too soon, such as Arrested Development and The Comeback. (Netflix's Fuller House and Disney's Girl Meets World are arguably exceptions, though both were led by kid actors now grown up, essentially making them different shows.) By contrast, W&G was, at its height, a massively successful broadcast sitcom that ran for eight seasons and whose 2006 finale attracted nearly 20 million viewers. It was not a niche show; it did not end its run too soon. In past decades, W&G was the type of sitcom whose cast would maybe get together for a 10- or 20-year prime-time reunion special, or perhaps a one-off TV-movie event. What NBC and creators Max Mutchnick and David Kohan are doing is different: They're bringing back the whole gang, about a dozen years later, for a new adventure on the same network that aired the original.
The best parallel, in recent times, is what Fox did last year with The X-Files, but again — that was a drama with a cult-like fan base. Broadcast networks haven't really tried what NBC is about to do, at least not of late. That's probably because, until maybe around five years ago, there wasn't much incentive for the big networks to invest money in a half-hour sitcom unless it was one that could yield 22 or 24 episodes per season, preferably with the promise of a long run of more than five years. So assuming a CBS executive in the 1990s could have somehow persuaded the cast and creators of, say, The Mary Tyler Moore Show to even consider a continuation of the classic series, it's hard to imagine the writers being able to come up with ideas for another 100 episodes or the actors signing on for another half-decade run.
What's different now is that, even as the 22-episode model continues to be the rule for network sitcoms, broadcasters are now finding room for shorter-run shows — mostly with dramas, but even with comedies. (Both The Carmichael Show and The Good Place air shortened seasons on NBC.) This change has been largely brought about by the rise of streaming platforms as a significant revenue stream for traditional networks such as NBC. The Peacock doesn't need to make dozens of episodes of the new Will & Grace to make the effort financially viable. It will be able to monetize these new half-hours almost immediately by selling them to a Netflix or Hulu. While this doesn't guarantee NBC will make a ton of money off its new venture, it certainly makes profit a possibility in a way that wasn't the case a decade ago. What's more, given how well X-Files did for Fox, and the upscale (read: advertiser-friendly) audience the original series boasted when it first aired, NBC should be able to command strong ad rates for the revival. This, in combination with a streaming sale, means NBC probably isn't betting the farm here.
There's one other tantalizing theory as to why NBC was able to get a Will & Grace reunion on the books. What if these new episodes of Will & Grace — whose existing library of some 200-odd episodes doesn't currently have an online home — end up on a theoretical NBC-branded streaming service? While nothing has been announced — or even rumored — it's hard not to imagine executives at NBC and parent Comcast looking at what CBS is doing with its CBS All Access streaming channel and wondering whether or not to launch something similar. If such a service came to be, NBC could easily put classic W&G episodes on this new service, and then add the new half-hours once they've run on TV. Or it could be even more bold. In the same way CBS is relying on past hits (The Good Wife, Star Trek) to power its original scripted programming for All Access, perhaps the first one or two episodes of the new W&G could debut on NBC proper and then shift to a still-imaginary NBC streaming service.  While NBC gave zero indication today that the new show will air anywhere but the NBC television network, if the Peacock were to dive into the subscription-based streaming waters, launching with new episodes of a classic sitcom (along with all the old ones) would be a great marketing hook. Will & Grace star Debra Messing even seemed to hint at such an idea last month during an interview with The Hollywood Reporter about the prospect of the revival. "Now there are platforms where you can do six or ten episodes," she told the publication. "I don't believe we would ever come back to network [TV] again. I think that the logistics of all of our lives — there would just be way too many things to hammer out."
Meanwhile, beyond the financial aspects of the new Will & Grace, the fact that the show is the first big multi-camera comedy in decades to get a series revival (with the original cast) by a broadcast network means other networks will be closely watching to see how it performs in the ratings. NBC no doubt used the same logic as Fox execs when mulling revivals of X-Files and Prison Break: Given how dramatically same-day viewing of TV has fallen over the last decade, and how tough it is for new shows to get noticed during the age of Peak TV, an already-established series from the pre-Netflix era has a significant advantage over a totally new show. Ratings for X-Files dipped after the first few episodes, but overall, the series ended up being one of 2016's biggest TV events. Sitcom ratings, particularly on NBC, have declined to the point now that it's very likely — barring some new breakout Peacock comedy hit — the new W&G will be one of the, if not the, top-rated sitcoms on the network during the 2017-18 season. If so, we could be in for a small wave of 1990s- and early '00s-sitcom revivals. We may finally find out what ever happened to the doctors from Scrubs, the kids from That '70s Show — and everyone from The Office.